It has been over 6 months without any in person events. With that in mind we are putting together a special feature article for the fall to highlight some of the new products and services our partners have rolled out during that time.

Brandon Hetherington for | ManufacturingTomorrow
Featured Articles:

Sponsored by:

Sponsored by:

Company Insights and News:

Sponsored by:

Whats New?

Over the past few months, CIMON has made several improvements to its existing product lineup: including new enclosure ratings for its Human Machine Interfaces (HMI's) and Industrial PC's (IPC's), and updated HMI protocols.

For industrial applications, having the right enclosure ratings is essential to ensure the safety and reliability of your system. To this end, CIMON has recently obtained a NEMA 4X-rated enclosure for all IPC and HMI products, meaning you can be confident in CIMON products' dependability even in harsh environments.

IPC's provide the power and flexibility of a desktop PC, but with the reliability and ruggedness needed for factory floors and other extreme conditions. CIMON's newest touchscreen IPC's come with powerful dual-core Intel i3 and i5 processors. Their affordable pricing removes the compromise between cost, durability, and performance.

CIMON's HMI devices are especially popular for connecting diverse types of devices using multiple communication protocols. In the most recent version of XpanelDesigner (CIMON's HMI runtime editing software), an improved driver for communicating with Allen Bradley devices over EtherNet/IP allows direct importing of L5X files: this makes system-wide data exchange and integration even easier by reducing engineering time.

What can we expect?

CIMON will soon be releasing an updated version of its Micro-S Brick-style PLC. This version will include an Ethernet port to allow for additional communication options, as well as remotely updating and monitoring PLC programs. There will also be choices available for relay, sink (NPN), and source (PNP) output. These features will make the Micro-S a highly attractive option for small-scale projects.

CIMON Xpanel HMI's will also see greater responsiveness thanks to improved capacitive touch functionality; operators will soon be able to scroll and drag-and-drop using intuitive real-time touch controls. The model will also feature a Linux-based operating system for increased reliability and performance.

Recently, CIMON's Hybrid HMI/PLC combo model has gained substantial traction in a variety of industries; by combining the functionality of both a PLC and an HMI into a single unit, engineers can easily test, edit, and implement their projects while maintaining a small footprint and budget. The newest models will come with dedicated Ethernet and serial ports for the PLC, providing greater flexibility for communication.

Finally, new versions of PLC, HMI, and Supervisory Control and Data Acquisition (SCADA) software will bring a multitude of new features and improvements.

Where will you be Virtually this fall?

In lieu of tradeshows, readers can learn more about the company with regularly scheduled webinars, online training, and a quarterly newsletter. This information is available online at www.cimon.com.

CIMON has also had massive success with its System Integrator Program. This program provides heavily reduced pricing on all CIMON products, a license to resell CIMON products, lead generation, and lead referrals.

Whats New?

Pleora has introduced its AI Gateway, which simplifies the deployment of advanced machine learning capabilities to improve the reliability and lower the cost of visual quality inspection. The embedded platform works with existing inspection hardware and software, with optional "no code" plug-in AI skills that simplify training for machine learning-based quality inspection and hyperspectral imaging. A powerful NVIDIA GPU accelerates the development of more advanced and customized machine learning and computer vision algorithms written in Python.

End-users and integrators can easily deploy AI skills without any additional programming knowledge. Images and data are uploaded to "no code" training software on a host PC, which generates a neural network that is deployed onto the Pleora AI Gateway. Images and data are simply uploaded to learning vision software that supports a unique "auto-learning" mode. AI models are transferred and deployed on the AI Gateway in production environments.

With the gateway, AI capabilities can be integrated into existing applications without changing hardware or software. In an inspection application, a gateway device intercepts the camera image feed and applies the selected plug-in AI skills. The gateway sends the AI processed data over a GigE Vision connection to the inspection and analysis application, which seamlessly receives the video as if it were still connected directly to the camera.

What can we expect?

We will continue to expand the plug-in capabilities of the AI Gateway, including partnering with other companies designing machine learning skills for machine vision, security and defense, and medical imaging applications. We are also now developing a smart Ethernet video interface, which will allow designers to integrate edge processing AI capabilities into X-ray flat panel detectors (FPDs) and cameras.

Where will you be Virtually this fall?

We are hosting regular webinars to discuss the advantages of Hybrid AI deployment for visual quality inspection. This live webinar hosted by Pleora Chief Technology Officer Jonathan Hou provides an overview on the evolution of machine learning and AI, with practical insight into how manufacturers and integrations can deploy advanced inspection capabilities within existing systems and processes. We are also hosting live demos of our AI Gateway solution.

What's New?

Cirrus Link has been working with Amazon Web Services to develop the our newest software product, Sparkplug SiteWise Bridge. Sparkplug SiteWise Bridge delivers OT data from Industrial applications to AWS IoT SiteWise service with automatic discovery of assets and requires zero coding.

What can we expect?

Look for our newly updated MQTT broker/server to be release later this year, Chariot MQTT Server. This server is an OASSyS MQTT 3.1.1 compliant server. The Chariot MQTT Server is delivered as per the Open Virtualization Format (OVF) that is an open standard for packaging and distributing virtual appliances or, more generally, software to be run in virtual machines. This enables it to be run for private on premise or cloud applications. Learn about its features here.
Where will you be Virtually this fall?

Cirrus Link will be conducting several webinars throughout the remainder of the year. Stay up to date on by following us on Twitter, or email sales@cirrus-link.com to get added to our mailing list. You can view our upcoming and past webinars here.

Whats New?

ATI Industrial Automation has developed the RCE-710 Radially-Compliant Electric Material Removal Tool, its first all-in-one, electrically-powered material removal tool.

The RCE-710 features large bearings, a shaft designed for demanding robotic use and a variable speed motor with a range of 0 to 13,000 rpm. It is built to handle a diverse array of robotic material removal tasks such as rust and weld spatter removal, blending, polishing and light grinding.

The new electric tool features built-in compliance to simplify and streamline the programming process, and to compensate for part and fixturing misalignments. The motor rotates clockwise and counterclockwise and produces continuous torque on the work piece.

Available as a complete end-effector package, the RCE-710 includes the deburring tool, power and signal cables and connectors, and an easy-to-use controller. This versatile and dynamic material removal solution can perform a wide array of tasks with carbide burrs, brushes, flap wheels, unitized wheels, and a variety of other cutting, grinding and polishing media.

For more information about the RCE-710 visit www.ati-ia.com/RCE.

Whats New?

During the pandemic, Dynatect looked at ways to produce protection items to help mitigate the spread of viruses. This resulted in fabric face masks and polycarbonate shields. More recently we had the developed a protective shield designed to mount to the unique form factor of pews in places of worship.

Dynatect has partnered in automation applications requiring automated safety doors such as robotic welding and machining. The aluminum-slat version Dynatect's automated machine safety door is receiving increased interest for light-tight protection for laser welding applications.

The pandemic has also increased interest in current products. While there are hundreds of uses for Dynatect's slip clutches, coronavirus response has driven increased interest for blood centrifuge machines, sanitizer bottle capping machines, and intubation feeding machines. Earlier in the year, Dynatect manufactured customized bellows for a dozen respirator prototypes.

What can we expect?

Dynatect continues to be here for customers as usual. Fortunately, we haven't seen any disruption to our supply chain or operations. During the economic downturn many companies are deferring capital investments and seeking to extend the life of their existing equipment. This repair, replace, extend support has been at Dynatect's core for 75 years. Dynatect continues to support manufacturers' uptime with repair and replacement of essential components to help keep their machines running smoothly and safely. Dynatect offers full-service repair, rebuild, and replacement for ball screws and metal way covers. A selection of bellows (in common sizes), way wipers, and a wide range of telescopic cover wipers can all be shipped within 1 to 2 business days. For applications requiring custom motion or protection, Dynatect provides practical and cost-effective solutions, whether it is for a one-time or repeat project.

Where will you be Virtually this fall?

Subscribing to Dynatect's monthly newsletter or following us on LinkedIn or Facebook are some of the best ways to find updates from Dynatect. Every month we are updating our resources and use these tools to notify our customers about new tools available.

For those customers who are accepting visits from suppliers, Dynatect has 55 geographically distributed sales representatives throughout the US and Canada. This means that we can meet in person at, or outside, your facility – typically without the need for flights or interstate travel.

Knowing that many of our customers may be working remotely and not accepting visits from suppliers, Dynatect has also made a significant shift in making resources available online. This includes Dynatect's literature, detailed request for quote forms, user guides/manuals, an online CAD configurator, and a growing collection of support videos. Every product webpage includes a section at the bottom for resources available to improve the ability to secure answers anytime, anywhere. Additionally, we gladly support video conferencing when projects still benefit from the participation of our experienced application engineers and other subject matter experts.

Whats New?

This year we've had many customers ask us to help them control their safety gate systems remotely, rather than traditional manual operations. So, we've been adapting different ways to power the safety gates, as well as equip them with technology for remote controls and to track efficiencies. One new way we can power a couple of our safety gate designs is through pneumatic operations; our customers can tap into their existing compressed air systems to power the safety gates instead of using electric motors. Power operation also lessens the strain on employees, making the safety gate solution more ergonomic, as well as a no or little-touch solution for sanitary operations.

We also received a new patent for a Dock-Lift safety gate that uses a no-touch, crossing-guard style operation. The Dock-Lift safety gate provides fall protection on elevated work platform lifts, aerial scissors platforms and pit-mounted dock lifts for employees using the lifts in the loading dock or within the facility. That press release is pasted in below.

What can we expect?

We are working on new safety gate designs, including one without hinges that will provide for very little lifetime maintenance, if any at all. We're also continuing to evaluate new ways that our safety gate systems can connect with vehicles or technologies used in the facility.

Where will you be Virtually this fall?

Readers can visit our booth at the Virtual MHEDA Trade Show, https://showcase.mheda.org/company-page/?wb_sc_uid=216. Our web site, https://www.mezzgate.com, will be updated with the latest news as well, and we can do virtual meetings as well.

What's New

Linear motion stages and EtherCat controllers deliver high speed for precision industrial automation applications. PI's V-817 stages have high load capacities of 60kg (130 lbs), guaranteed by robust and accurate recirculating bearing guides. Motion ranges start at 200mm (8 inches) all the way to 813mm (32 inches). High resolution optical linear sensors provide up to 1 nanometer resolution and can keep up with the high velocity of up to 3000mm/sec (118 inch/sec). The ironless high performance linear motors are frictionless and guarantee virtually unlimited service life which is well suited for applications that require constant up-time and consistent repetition, such as mechanical assembly, lens alignment, laser micro-machining, additive manufacturing, and semiconductor test and inspection. XY and XYZ combinations are possible in a low profile as well.

These stages are compatible with controllers based on ACS driver modules – the G-901 controller family – providing up to 1500W output per axis. Customization to improve throughput and performance for the OEM is available.

To learn more about the V-817 linear stages series and EtherCat motion controllers, click here».

What can we expect?

New posts are added on a regular basis to our tech blog, which represents 50 years of insight detailed in over 160 different innovative applications of precision motion control, nanopositioning, and micropositioning in industry, science, and research.

Tap into our resources as a starting point for innovation across disciplines and click here» for automation/nano-automation articles.

Where will you be Virtually this Fall?

WEBINARS / WEBCHATS: To fill the void of face-to-face interactions and technical talk on tradeshow floors, PI is running webinars and webchats to share our engineers' vast application knowledge. Topics include: adaptive machines, differences and advantages between piezo mechanisms, and custom direct drive motors for industrial and research applications.

To register for an upcoming webinar and watch past webinars, click here ».

VIRTUAL INTERACTIVE TRADESHOW BOOTHS: Keep up-to-date with the latest developments in Industrial Automation and Laser Material Processing precision motion control with PI's series of interactive virtual tradeshow booths.

Assembly, semiconductor manufacturing, laser material processing, and inspection systems demand systems that are robust and reliable, while delivering submicrometer accuracy, exact position reproducibility, and high throughput.
Laser processing automation additionally must deal with process, material, work cycle, ambient conditions, and criteria such as geometry tolerances, size of the machining surface, and contours.

PI's virtual demonstrations explain how each system works and how the user benefits from its innovations – click here ».

Whats New?

Besides ease of movement, ergonomics play a critically important role for casters. Our POTHS series has been designed, engineered and manufactured to specifically move heavy loads with little noise and optimized operational comfort especially in sensitive hygienic areas. It is commonly used in food industry applications. A copy of the POTHS brochure has been attached, and can be downloaded from the link here. (Product images have been attached).

The Blickle SoftMotion rubber wheels are optimized to reduce vibration and operational noise while providing the highest driving comfort. To see this innovation in action, check out the success story here. More information on this series can be found on page 45 of the online catalog linked here. (Product images have been attached).

Blickle's new range of leveling casters offers a variety of innovative leveling caster solutions to transform mobile work equipment into stable worktops. Read how these casters benefited a machine shop's assembly units in the success story here. These new leveling caster designs can be found on pages 12-25 of the online catalog linked here and a video on this product can be found here.

What can we expect?

Here at Blickle we are customer driven by the mantra of new products, new products and new products. Next month we will launch our new Blickle Catalog. This catalog is 634 pages and has an additional 135 pages of new product content. Included in this is 4,620 new wheel and caster innovations.

Where will you be Virtually this fall?

Customers can visit our website www.Blickle.us for more information, downloadable catalogs and brochures, CAD Drawings, product spec sheets and more. We always welcome customers for virtual online training seminars at their convenience. To set up a one-on-one training customers can call us at 888.558.7878 or reach out via email at info@blickle.us

What's New?

The Handheld Portable Inkjet Printer has continued to gain popularity for Inkjet Coding and Marking in virtually all Manufacturing Processes. Well suited to improvements in Quality Control and quality assurance, clients seek our advice and solutions because the Handheld Inkjet Printer benefits and achieves cost-savings for those interested in Lean Manufacturing and principles. Earlier this Year, we've released the budget friendly QuikJet Handheld Inkjet Printer and the new and capable TouchJet TWO Label Maker Handheld Portable Printer, for printing Large Labeling of text, logos and barcodes directly on any substrate….without the adhesive labels. jetStamp 790MP from Reiner, brings to the table a Fast Direct Part Marking System with capabilities for Mobile Inkjet Printing or stationary coding at a workbench. Let's don't forget, the Sojet V1H-S Handheld Inkjet Printer with Barcode Scanner, offering a seamlessly integrated Scan-and-Print function for pharmaceutical manufacturing or just practical Trace and Trace in your Manufacturing Process. When the need for Printing Metal, Plastics Printing for Manufactured Date Codes, Logo Printing and Barcode Printing on surfaces both Non-Porous and Porous, we have the solution.

What can we expect?

October 2020 will see the release of a brand new website, https://HandheldInkjetPrinter.us , further evidence of our commitment to Handheld Inkjet Printing for Manufacturing Industries and Packaging Manufacturing in the USA. Also, we intend to continue partnering with Manufacturing Tomorrow, in their Marketing Partner programs and company directory to get the word out. As we have since our founding in 1962, the support of businesses, now with ecommerce industry tools, we continue to focus on those supply chains and products by leveraging the power of websites today.

Where will you be Virtually this fall?

Always open 24/7, customers can shop our eStore website at https://InkjetCodingandMarking.com for Handheld Portable Printer Products and other Inkjet Coding and Marking solutions. Designed with a mindset of "Virtually" and a goal of Self-Service, the Depth of product information on this website is typically unmatched, with Datasheets and brochures, detailed How-to Videos and Case Studies, Ideas around successful implementations and the eCommerce Checkout for products and complete systems. We invested in Virtual Software Tools over 15 Years ago, with a goal to support our clients remotely/virtually. This investment in Virtual has really paid off, as the businesses we have supplied are stretched across North America and worldwide and have been dispersed, now working from home. We are and have been well positioned to support an existing product via direct remote-control. We also welcome existing and new customers for On-Line Training and Product Demonstrations via a GoToMeeting approach, just contact us 888.838.5391 or via info@InkjetCodingandMarking.com

What's New?

With a commitment to being a total solutions provider for all industrial automation needs, Omron has launched several new products this year that are designed to help companies maintain plant safety and free up workers from repetitive tasks. The new HD-1500 autonomous mobile robot has sturdy metal skins and can transport the heaviest of objects while reducing a facility's dependence on forklifts, which can cause serious accidents. Onboard the HD-1500 is the Omron NX1 automation controller integrated safety, providing end user access to the complete SYSMAC automation platform including IIoT connectivity, and vision systems for both Smart Factory and Industry 4.0 integration. The powerful FH Series vision system has been updated with AI defect detection tools that can help companies deal with challenging quality inspections and a shortage of skilled inspectors, allowing employees to focus on more creative activities.

In the safety arena, Omron has partnered with the Brady Corporation to produce visual lockout/tagout procedures and arc flash assessment services. Both services offer clear, concise information to machine operators and maintenance teams on how to protect themselves when dealing with hazardous energy sources. Omron's safety experts work together with customers' teams to place easily accessible information at the point of operation, ensuring that employees have all of the necessary information to keep themselves and others safe and productive.

What can we expect?

Throughout the rest of the year, Omron will continue to incorporate the latest advances in robotics, motion and sensing technology into its vast product portfolio.

Where will you be Virtually this fall?

While in-person tradeshows are not an option, Omron will be a presence at many virtual events, including live webinars, online training sessions and more. The automation solutions provider is getting ready to showcase its newest products at PACK EXPO Connects, a virtual stand-in for the annual PACK EXPO tradeshow. Omron will also be highlighting its SPI, AOI and AXI products at the virtual SMTA International tradeshow this year, with an opportunity for booth attendees to win some valuable prizes.

What's New?

Over the past six months, we launched new hardware, support for additional communication protocols, and software features that can boost our customer's project potential:

Controllers: Our latest All-in-One—the UniStream® 10.1" Built-in.
This powerful controller is a PLC + HMI + I/O with an integrated 10.1'' color touch-panel offering 1024 x 600 (WSVGA) resolution. Available in a range of built-in I/O configurations, UniStream 10.1″ offers a rich portfolio of features— Auto-tuned PID, data logging, data tables and recipes, data sampling displayed via built-in Trends and Gauges, Alarms, multi-level passwords, and Servo Made Simple, Unitronics' ground-breaking solution for Motion Control.
As a member of our award-winning UniStream series, this new controller has plug-and-play support for both major fieldbus protocols and advanced communications, including Ethernet/IP, CANbus, OPC OA, VNC, FTP, Web Server, Video + RTSP, SQL Client, SNMP, email, SMS messaging, MQTT, REST API and more—All programmed in a single, incredibly efficient software environment.
Additional New Hardware:
- Ethernet-based I/O modules that support Loadcell/Strain-gauge, PWM, and Pulse.
- 4G/LTE & WiFi cellular Routers with embedded SMS functionality, RS232, RS485, GNSS (GPS), microSD, USB interface, and on-board Digital & Analog I/Os.
COM Protocols: We added support for two additional protocols over the last 6months: REST API and BACnet IP Server.
Software Features: We added quite a number, but a couple of stand-outs are PTO, servo features for actuator types such as rack & pinion, plus new motion function blocks and a firmware update wizard.

What can we expect?

For over two decades—and each year for the past ten—Unitronics has won industry awards for automation hardware and software, as well as the prestigious award 'Global Advanced PLC Product Line Strategy Leadership' from Frost & Sullivan.

Our R&D department is currently working on a project that we believe will set a new standard in automation, particularly for machine builders and system integrators, and we expect to be able to make a formal announcement in the coming months.

Where will you be Virtually this fall?

The best way is to follow us on Social Media:

https://www.facebook.com/UnitronicsUSA

https://www.linkedin.com/company/unitronics_2

We often hold webinars—our next one is "One Solution for Automation and Motion Control".

Readers are invited to sign up here:

and to check out our recordings of our previous webinars and our tutorials here:
News Headlines & More Related Articles
The content & opinions in this article are the author's and do not necessarily represent the views of ManufacturingTomorrow
---
Comments (0)
This post does not have any comments. Be the first to leave a comment below.
---
Post A Comment
You must be logged in before you can post a comment. Login now.
Featured Product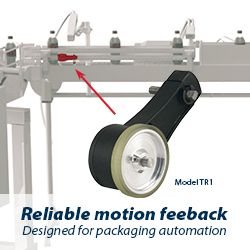 The Model TR1 Tru-Trac® linear measurement solution is a versatile option for tracking velocity, position, or distance over a wide variety of surfaces. An integrated encoder, measuring wheel, and spring-loaded torsion arm in one, compact unit, the Model TR1 is easy to install. The spring-loaded torsion arm offers adjustable torsion load, allowing the Model TR1 to be mounted in almost any orientation - even upside-down. The threaded shaft on the pivot axis is field reversible, providing mounting access from either side. With operating speeds up to 3000 feet per minute, a wide variety of configuration options - including multiple wheel material options - and a housing made from a durable, conductive composite material that minimizes static buildup, the Model TR1 Tru-Trac® is the ideal solution for countless applications.