Manufacturing

Marketing Partner
---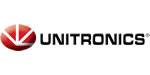 Unitronics Inc.
Unitronics designs, manufactures, and markets advanced control and automation solutions. Our extensive offering includes a complete line of PLCs with integrated HMI, full line of VFDs, a broad array of I/Os and complementary devices, as well as programming software for all aspects of control, motion, HMI, and communications. Unitronics PLCs range from micro-PLC + HMI units for simple machine control, to complex controllers with advanced functions, a variety of onboard IOs and multiple communication options - including support for Industry 4.0 (smart factory) technology.
---
Mailing Address:
1 Batterymarch Park
Quincy, MA 02169
United States of America
Tel: 617-657-6596
Fax: 617 657 6598
Email: usa.sales@unitronics.com
Website: http://unitronicsplc.com/
Company Category: Automation & Networking
Geographic Region: USA - North East
Company Sector: Manufacturing
Keywords: PLC, servo, hmi, vfd, automation, control, iiot, industry 4.
Partner Status: Marketing Partner
---
Products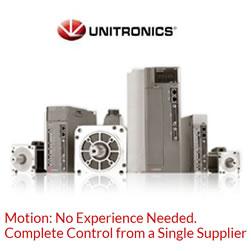 Unitronics' new line of AC Servo Drives & Motors changes the traditional approach to motion control. They are simple to set up and painless to program. Unitronics Servos simplify implementation of motion applications while minimizing complexity and reducing development time. Some of the easy-to-use features in this new line include implementing motion control easily with ready-made motion code, embedded diagnostic tools, and automatic communication setup.
---
Articles
When a major producer and packager of balanced feed for livestock such as poultry, swine, and horses, house pets, and fish farming needs turned to them for a an efficient, fast, and reliable packaging solution, IGCP Engineering turned to Unitronics.
Our solution for the packaging industry eliminates the complicated operations traditionally associated with automation and enables you to integrate all systems and manage them using one single source. Visit us at Booth LS-6863.
A Programmable Logic Controller, or PLC, is a ruggedized computer used for industrial automation. These controllers can automate a specific process, machine function, or even an entire production line.
---
White Papers
UNITRONICS LOCKED IN LEARNING WEBINAR SERIES
Unitronics' innovative approach to reliable automation is driven by in-depth knowledge of the needs of the automation control industry. This knowledge is gained through the company's decades of experience with diverse projects in automated parking systems, packaging and palletizing, energy production, agriculture, HVAC, food, dairy, chemical, wastewater, boiler industries, plastic extrusion, and other industrial channels. Newly added webinars will be listed here.
---
Press Releases
VFD launch expands Unitronics offerings to motion control
Unitronics newly-released UniStream® 5" is a multi-function programmable logic controller in a superbly compact hardware profile: PLC+HMI+I/O built into a single unit.
---