• HALCON 20.11 will be launched on November 20, 2020 • Numerous new features promise even better machine vision performance • Release available in purchase and subscription editions
Munich, August 19, 2020 - MVTec Software GmbH (www.mvtec.com), a leading international provider of machine vision software, will release the new version 20.11 of its standard software HALCON on November 20, 2020. The release comes with many new and improved features that help users further enhance their machine vision performance. These include optimized technologies for code reading, OCR, 3D, deep learning, as well as a face lift of the integrated development environment HDevelop for even better usability.

What's special about this version is that HALCON 20.11 will be released simultaneously for both the Steady and Progress editions. As a result, HALCON Steady customers can now access the many new features available in the last three Progress releases, including anomaly detection, the generic box finder, and optimized identification technologies. "The full range of new Progress features is now also available to our Steady customers. With HALCON 20.11, we thus offer a comprehensive range of functions for both models - subscription and regular purchase - so that companies can make their machine vision processes even more efficient and professional," remarks Mario Bohnacker, Technical Product Manager HALCON at MVTec.
Interested parties can already try out these previously released HALCON Progress functions by downloading the latest Progress version 20.05 and requesting an evaluation license. They will thus be well prepared for the new version, which will be available in November.
About MVTec Software GmbH
MVTec is a leading manufacturer of standard software for machine vision. MVTec products are used in all demanding areas of imaging: semiconductor industry, surface inspection, automatic optical inspection systems, quality control, metrology, as well as medicine and surveillance. By providing modern technologies such as 3D vision, deep learning, and embedded vision, software by MVTec also enables new automation solutions for the Industrial Internet of Things aka Industry 4.0. With locations in Germany, the USA, and China, as well as an established network of international distributors, MVTec is represented in more than 35 countries worldwide. www.mvtec.com
About MVTec HALCON
MVTec HALCON is the comprehensive standard software for machine vision with an integrated development environment (HDevelop) that is used worldwide. It enables cost savings and improved time to market. HALCON's flexible architecture facilitates rapid development of any kind of machine vision application. MVTec HALCON provides outstanding performance and a comprehensive support of multi-core platforms, special instruction sets like AVX2 and NEON, as well as GPU acceleration. It serves all industries, with a library used in hundreds of thousands of installations in all areas of imaging like blob analysis, morphology, matching, measuring, and identification. The software provides the latest state-of-the-art machine vision technologies, such as comprehensive 3D vision and deep learning algorithms. The software secures your investment by supporting a wide range of operating systems and providing interfaces to hundreds of industrial cameras and frame grabbers, in particular by supporting standards like GenICam, GigE Vision, and USB3 Vision. By default, MVTec HALCON runs on Arm®-based embedded vision platforms. It can also be ported to various target platforms. Thus, the software is ideally suited for the use within embedded and customized systems. More information: www.halcon.com, www.embedded-vision-software.com
Featured Product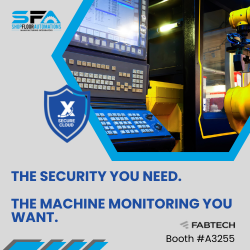 For manufacturers adhering to regulations like International Traffic in Arms (ITAR), Defense Federal Acquisition Regulation Supplement (DFARS) and other security and compliance requirements, the ability to monitor disparate machines, each with a unique control system and communication protocol with varying ages, can make continuous improvement initiatives challenging in the cloud. The Scytec DataXchange solution, available through Shop Floor Automations, resolves these issues by leveraging AWS GovCloud to capture real-time, Industrial Internet of Things (IIoT) data from a variety of equipment - from lasers and press brakes, to saws and robots - through universal machine connections to give teams full transparency on the shop floor through an architected secure cloud solution for a total smart factory transformation.