SMAC Moving Coil Actuators announces new brushless high torque DC motors.
CARLSBAD, CALIFORNIA - SMAC announced the general release of its HT (High Torque) brushless DC motors. The HT basic design is aimed expressly at special OEM applications.

These motors represent a technical Leap over existing DC brushless motor technology:
- Flux density over 10,000 Gauss - achieved by using Halbach magnet designs (like those used in Particle Accelerators)
- SMAC's patent pending PRINTED COIL technology - uses circuit board manufacturing methods to make coils with the following advantages;
- Very low cost tool up
- Very quiet because of the near perfect coil layer location
- Nearly zero variance in resistance
- Allows the combination of coil/encoder reader head/ controller amplifier all in the same circuit board. (Eliminates wires, soldering, etc.)
The HT motors are available in a 35mm motor (torque as great as 500 mNm) and a 55mm motor (torque as great as 1.0 Nm) sizes as standard with a 7.5mm motor (torque as great as 12.5 mNm) coming soon. Torques are 2X that of conventional designs. SMAC also is making special motors for OEM proprietary application - like the HT 100 designed to integrate into a specific customer's filler line.
SMAC HT motors have much higher torques than the current market leaders and are priced very competitively. Design possibilities exist to reduce motor foot print / weight / and even sometimes eliminate a gear.
Featured Product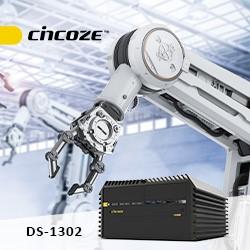 Powered by 10-core 10th-gen Intel® Xeon® or Core™ CPU, the DS-1300 is a rugged, high performance, highly expandable embedded computer. It supports up to two PCI/PCIe expansion slots (combined max 110 W), various commercially expansion cards available in image capture cards, motion control cards, or GPU cards. The DS-1300 series is suitable for deployment in industrial automation, factory automation, machine vision, AIoT and applications requiring high computing power in harsh environments.