In response to a growing need for manufacturers to ensure compliance and protect operators from hazards on the plant floor, automation solutions provider Omron Automation Americas has incorporated assessment and labeling services focused on best practices for lockout/tagout and arc flash avoidance into its safety offering.
Hoffman Estates, IL., September 10, 2020 - Industry-leading automation solutions and safety services provider Omron Automation Americas has partnered with Brady Corporation to add dedicated service offerings for lockout/tagout (LOTO) procedures and arc flash risk mitigation to further help manufacturers maintain compliance and protect their employees. These new services are part of Omron's commitment to providing holistic management for safe manufacturing facilities in various industries.

Lockout/tagout problems are consistently among the top five violations for regulatory agencies in the Americas. When a company's employees need to perform maintenance, repairs or adjustments (including line changeovers), it's essential to have measures in place to keep them safe from hazardous machine motion by isolating and dissipating the machines' energy sources. In tandem with Brady's world-class field engineers, Omron's safety experts work with manufacturers to create clear, complete and easily accessible lockout/tagout instructions with visual elements to protect operators and help avoid citation.
Arc flashes can be a significant safety risk on the manufacturing floor. Although usually associated with high voltages, the causes and mitigation methods can be complex so manufacturers are required to conduct risk assessment for their specific situation. In partnership with Brady's electrical engineers, Omron can provide full risk assessments and recommendations to help employees stay safe while working on energized panels.
In addition to these two new services, Omron offers a variety of expert-led training classes with a focus on safety, including TÜV Rheinland Functional Safety Technician and Engineer certifications and skill building programs on general machine safety. For safety solution evaluation and implementation, Omron's experts perform risk assessments on thousands of machines per year and assist with safety system retrofits and the safeguarding of simple and complex machinery.
Industry professionals seeking to learn more about Omron's safety services offering are encouraged to visit the dedicated solution page by clicking here.
About Brady Corporation
Brady Corporation (NYSE: BRC) is an international manufacturer and marketer of complete solutions that identify and protect premises, products and people. Its products include high-performance labels and signs, safety devices, printing systems and software, and precision die-cut materials. Founded in 1914, the company has millions of customers in electronics, telecommunications, manufacturing, electrical, construction, education, medical and a variety of other industries. Brady is headquartered in Milwaukee and employs 6,900 people at operations in the Americas, Europe and Asia/Pacific. Brady's fiscal 2013 sales were approximately $1.15 billion. More information about Brady Corporation is available at www.bradycorp.com.
About Omron Automation
Omron Automation is an industrial automation partner that creates, sells and services fully integrated automation solutions that include sensing, control, safety, vision, motion, robotics and more. Established in 1933 and currently headed by President Yoshihito Yamada, Omron's about 30,000 employees help businesses solve problems with creativity in more than 110 countries. Learn more at automation.omron.com.
Featured Product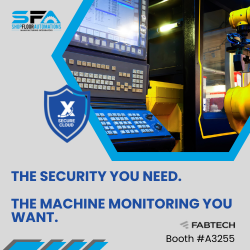 For manufacturers adhering to regulations like International Traffic in Arms (ITAR), Defense Federal Acquisition Regulation Supplement (DFARS) and other security and compliance requirements, the ability to monitor disparate machines, each with a unique control system and communication protocol with varying ages, can make continuous improvement initiatives challenging in the cloud. The Scytec DataXchange solution, available through Shop Floor Automations, resolves these issues by leveraging AWS GovCloud to capture real-time, Industrial Internet of Things (IIoT) data from a variety of equipment - from lasers and press brakes, to saws and robots - through universal machine connections to give teams full transparency on the shop floor through an architected secure cloud solution for a total smart factory transformation.