There are many reasons why 3D printing may be suitable for your hardware design and development cycle. But what about using 3D printing for full-scale production? Here are some considerations when deciding whether to use 3D printing for high-volume, end-use custom parts.
When Should You Use 3D Printing for Production?
Serena Ngoh | Xometry
3D printing is one of the most flexible and cost-effective prototyping methods. There are few better ways to test designs at a cost-effective price point, helping designers iterate through the rapid prototyping development cycle from low-fidelity concept models to near-production prototypes.
But what about using 3D printing for production? The argument for 3D printing production is often assessed against injection molding production, in which custom parts can be produced at just a few cents per unit after tool amortization, with strong mechanical properties, and with strikingly clean cosmetics. These advantages of injection molding are due to inherent differences in the mold making process, which produces solid parts with isotropic properties and consistent results because of the use of a mold. But where the injection molding falls short, 3D printing often excels.
Here are four reasons why you should take 3D printing to production: cost, speed, flexibility of inventory, and "good enough" part quality.
Cost-Effective: Scale Up at Any Time with No Mold Commitment
Especially for parts made with selective laser sintering (SLS) and HP Multi Jet Fusion (MJF), these parts are cheap enough to scale. For example, a surgical mask strap made with MJF is very affordable at a few dollars per part. The part is the same cost whether you are ordering 100 or 1,000 parts, so you know exactly what your costs will be at any given time.

The cost of a 3D printed part at a quantity of 100.

The cost of a 3D printed part at a higher quantity of 1,000.
With a mold, the tool may cost a few thousand dollars upfront, requiring you to hit a certain output of parts to amortize the tooling cost. For example, a tool that costs $5,000 will require a run quantity of 1,232 units to achieve the same economy of scale. Beyond this break-even point, injection molding will typically be the more affordable option, but will always require you to commit upfront to tooling creation and costs. If you are not sure whether you will create enough parts to amortize the cost of the tool, 3D printing production can provide you with the flexibility to make decisions about your product quantity later.
When You Need Speed: Rapid Production
The upfront tooling costs of injection molding also pairs with a slower time to production. 3D printing is well known for its speed, which enables a user to design a 3D CAD file, upload the file to get an instant quote from 3D printing services like Xometry, and send the part straight to the printer. Some 3D printing service bureaus can even print hundreds to thousands of parts overnight with proper build configurations. It may be possible, for example, to fit 300 small parts, or parts within a 2" bounding box, into the build bed of a single industrial printer. It should be noted that parts of this size are typically more cost-effective for rapid production via 3D printing over injection molding, too. Creating a small mold via CNC machining, for example, may require specialized lathes and may incorporate higher tolerances, both of which can dramatically increase tooling costs.
In contrast to the speedy ordering and production of 3D printed parts, injection molding is a multi-step process. It first requires a detailed consultation with injection molding experts on the design and manufacturing of the mold (typically created via CNC machining) as well as one or multiple trial runs on the mold. The mold must be adjusted and finalized with further machining or a remake of the mold. This pre-production tooling may take an average of 10 days, which adds to the lead time of your parts. At this rate, 3D printing production is certainly your best bet for getting your product to market.
On-Demand Inventory
Rapid production and cost-effective pricing enable "just-in-time" inventory management. This means that you can take 3D printing to production at any time as demand for your product ebbs and flows. In addition, you can change the prototype design at any point, since your prototype can go straight to production. When flexibility is the name of the game, using 3D printing for production is a critical advantage over injection molding or other traditional manufacturing processes.
"Good Enough" Mechanical Properties and Cosmetics
Although injection molding is the most-used production method for plastics in the world, producing very strong, durable parts, 3D printing produces plastic parts with comparable strength and that are suitable for most applications. For example, industrial automation provider Melton Machine & Control Company uses SLS Nylon 12 to create fixtures that go into welding machines. These parts withstand daily high heat and spatter for a few years at a time. Other times, 3D printed parts are the best choice for end-use parts because of their ability to be lightweighted. BMW uses 3D printed parts with a light infill to make custom jigs much easier to lift on the assembly line.
What makes 3D printing a clear choice for production, however, is the ability for parts to have complex features. BMW's jigs feature complex features that mimic the organic curves of an automobile front or back end to ensure the proper alignment of decals. Geometries like these, as well as undercuts and "impossible shapes" like lattice structures, must be approached at multiple angles. 3D printing can easily print these multi-angled features on multiple axes through a combination of layer-by-layer cross-sections and support structures. With injection molding, however, complex shapes may be impossible to mold because of a nonviable machining path when making the mold tool, or during molding, may create a die lock condition. If the feature is complex but possible with molding, it may require costly side actions. These factors mean that the required geometry for a part may not be achievable with injection molding production, or that the cost of molding is less cost-effective than 3D printing production.
When it comes to cosmetics, 3D printed plastic parts can rival the superior quality of injection molded surface finishes through post-processing options. While standard injection molded parts come out with a completely smooth surface, with the exception of small parting lines or ejection rings, 3D printed parts may have layers (for extruded processes) or a slightly grainy surface texture (for sintered processes). Finishing options like sanding, media tumbling, painting, dyeing, and plating can make parts production-ready.
Oftentimes, the answer is that 3D printing is good enough, and certainly cheap and fast enough, to use as end-use parts and for an end-customer. Especially at fast-moving startups and with projects experiencing delays, 3D printed parts can withstand a high level of environmental stress, making them perfectly suitable for 3D printing production.
The Bottomline: Should You Scale Up with 3D Printing?
3D printing is a process that's most frequently used for rapid and functional prototypes, but also produces parts that are suitable for end-use environments and applications. When thinking about whether to scale production of plastic parts with injection molding or 3D printing, 3D printing has the advantage when it comes to rapid production and on-demand inventory management. In addition, 3D printing production is cost-effective when upfront tooling costs are prohibitive or final quantities are unknown. Finally, industrial 3D printed parts are extremely durable and have a range of surface finishing options that make the parts comparable to the mechanical and cosmetic qualities of injection molded parts. For many applications such as automotive, medical, industrial, and more, 3D printed part quality works extremely well.
The content & opinions in this article are the author's and do not necessarily represent the views of ManufacturingTomorrow

Xometry
Our instant quoting platform and nationwide network of machine shops is transforming American manufacturing. We make it easy for all customers - from startups to Fortune 500 companies - to access manufacturing on demand by providing the most efficient way to source high-quality parts.
Other Articles
Machinist shortage is a tricky problem that shop owners constantly face. Here are some ways to solve it and help you attract and retain them.
A team of engineers and medical experts joined forces during the first wave of COVID-19 to rapidly prototype a medical device. Xometry manufactured 9 prototypes in under 3 weeks, providing advice and rapid production for critical decision making.
This innovative California-based aerospace company is revolutionizing space exploration with Maxwell, its mass-producible EP system. Xometry is the manufacturing platform that's bringing its exoskeleton from its 12-page drawing to life.
---
Comments (0)
This post does not have any comments. Be the first to leave a comment below.
---
Post A Comment
You must be logged in before you can post a comment. Login now.
Featured Product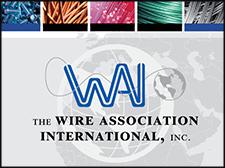 The Wire Association International (WAI), Inc., founded in 1930, is a worldwide technical society for wire and cable industry professionals. Based in Madison, Connecticut, USA, WAI collects and shares technical, manufacturing, and general business information to the ferrous, nonferrous, electrical, fiber optic, and fastener segments of the wire and cable industry. WAI hosts trade expositions, technical conferences, and educational programs.