Consultant

Marketing Partner
---

TR Cutler, Inc.
TR Cutler, Inc. was founded by Thomas R. Cutler 22 years ago. Cutler maintains extraordinary relationships with clients, journalists, editors, trendsetters, and key business leaders worldwide and has become a key resource for those writing about the manufacturing sector. He is also the founder of the 8000 member Manufacturing Media Consortium.
---
Mailing Address:
3032 S. Oakland Forest Drive, Suite 2803
Ft. Lauderdale, FL 33309
United States of America
Tel: 954-682-6200
Fax:
Email: trcutler@trcutlerinc.com
Website: http://www.trcutlerinc.com
Company Category: Automation & Networking
Geographic Region: USA - South East
Company Sector: Consultant
Keywords: manufacturing, industry, media, content
Partner Status: Marketing Partner

---
Products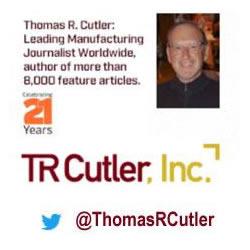 Cutler has authored more than 8000 articles for a wide range of manufacturing periodicals, industrial publications, and business journals including most of the leading monthly trade publications.
---
---
White Papers
This Company does not currently have any White Papers
---
Press Releases
This Company does not currently have any Press Releases
---