Because many functional areas require access to needed data from operations, purchasing, and of course, the founder/owners, it is best to have a highly visual dashboard interface, so even unfamiliar MRP users can follow the operation.
Fast Growing Small Manufacturers Demand Cost-Effective Scalable Material Requirements Planning SaaS Solutions
Thomas R. Cutler | TR Cutler, Inc.
Small manufacturers are overlooked too often. Ironic since 90% of manufacturing operations have fewer than 100 employees and under $10M in annual sales. Even the smallest manufacturers face the same material requirements planning (MRP) demands as Fortune 1000 manufacturers. Fast-growing smaller manufacturers require a robust and effective production planning, scheduling, and inventory control systems to help manage their manufacturing processes.
Wading through MRP choices can be difficult for short-staffed manufacturing operators who are simply trying to make and ship product on-time at a profit. The top consideration is still price for these new or growing smaller firms. The only viable option is a SaaS (Software as a Service) pay-as-you-go monthly service fee. All operations and information must be packaged into a single, unified system that presents users with relevant manufacturing data such as materials, productions, warehouse status, sales and purchase orders.
Because many functional areas require access to needed data from operations, purchasing, and of course, the founder/owners, it is best to have a highly visual dashboard interface, so even unfamiliar MRP users can follow the operation. Small manufacturers globally have identified Katana MRP as the best-of-breed solution because users are able to rapidly capture real-time and comprehensive views of the business. Managers and business owners observe which areas of their operations are running smoothly, and quickly focus in on specific areas that need to be addressed and strengthened.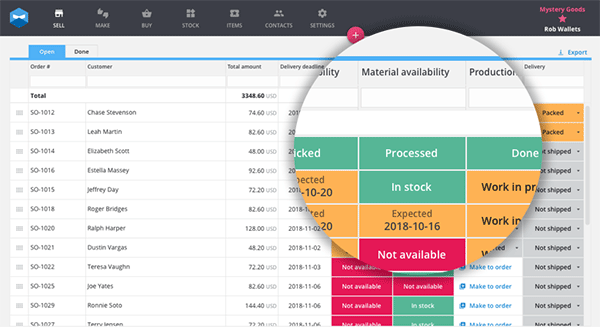 ©2019 KatanaMRP
Increasingly small manufacturers operate in the B2C (Business to Consumer) environment
Any MRP solution for small manufacturers operating in the B2C environment must offer integration with well-known manufacturing apps such as Shopify, Quickbooks, Xero, WooCommerce and BigCommerce. This is vital since small manufacturers are using these solutions currently for their operations. Many MRP solutions which cannot seamlessly sync work information and processes with the aforementioned programs must immediately be removed from consideration. This integration is essential ensuring that orders will be fulfilled in a timely manner.
Differentiation matters: few MRP solutions' providers understand manufacturing
In evaluating optimal MRP solutions for small manufacturers one need only look at the history of the creators of these solutions. Most lack a background and understanding of the pain points, challenges, and opportunities faced by small manufacturers. Conversely, the developers of the Katana MRP software have learned the subtleties and nuances of the manufacturing industry when developing and perfecting their MRP solution. Starting from a small workshop, they observed key facets of their own business processes in the different stages of manufacturing and integrated key components that worked into the development of the Katana solution.
Critical small manufacturing issues: real-time Inventory management and accurate pricing decisions
Best MRP solutions must contain inventory control features which manage small manufacturing companies' SKUs (both raw materials and finished products), schedule manufacturing orders, and implement production operations and subassemblies when the need arises.
Too often to meet promised delivery times, accurate pricing decisions are ignored. With MRP excellence, pricing is based on actual product margins.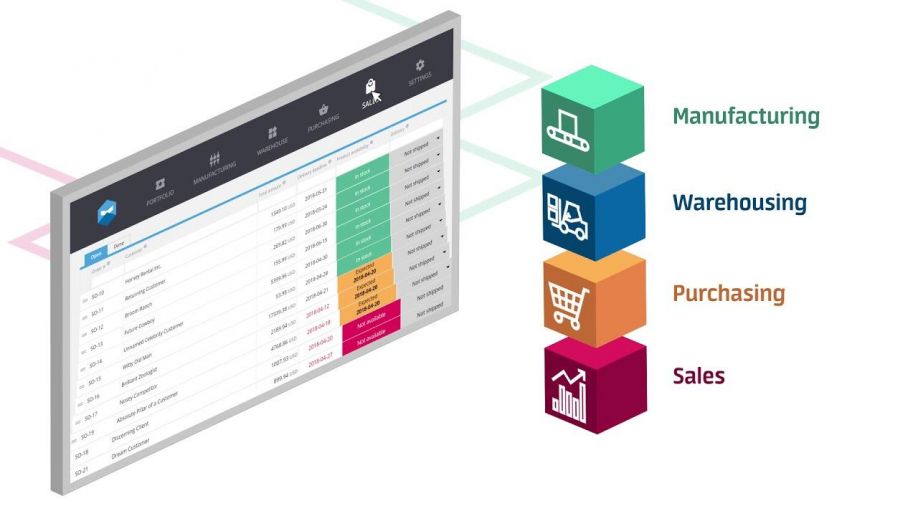 ©2019 KatanaMRP
Graduating from spreadsheets
Small manufacturers, particularly in the first few months of their operation, often keep information on spreadsheets (Excel, Google Sheets, for example). The migration to a scalable cloud-based inventory and production management software must provide an intuitive platform for owners who wish to graduate from cumbersome spreadsheets and multiple traditional control systems that hamper operations and are costly to maintain.
One of the favorable features of the Katana MRP solution includes an automated booking engine that allows users to drag-and-drop orders and automatically re-allocate inventory and production according to order priority. Such automation helps with weekly or monthly shipping schedules and reaching target production and sales quotas.

Access on any device meets the 24/7 reality of small manufacturers
Finally, as every small manufacturer knows first-hand, the company is a 24/7 consideration, not just on the production floor or plant. Only with a cloud-based platform, can the owner, founder, or key principals gain access to the company data on any device. Management takes the business wherever they go — accessing inventory any time and make critical adjustments on their phone.
A 14-day trial is a smart way to test the efficacy and suitability of an MRP solution.
About Thomas R. Cutler
Thomas R. Cutler is the President and CEO of Fort Lauderdale, Florida-based, TR Cutler, Inc., (www.trcutlerinc.com). Cutler is the founder of the Manufacturing Media Consortium including more than 7000 journalists, editors, and economists writing about trends in manufacturing, industry, material handling, and process improvement. Cutler authors more than 1000 feature articles annually regarding the manufacturing sector. Cutler can be contacted at trcutler@trcutlerinc.com and followed on Twitter @ThomasRCutler.
The content & opinions in this article are the author's and do not necessarily represent the views of ManufacturingTomorrow
---
Comments (0)
This post does not have any comments. Be the first to leave a comment below.
---
Post A Comment
You must be logged in before you can post a comment. Login now.
Featured Product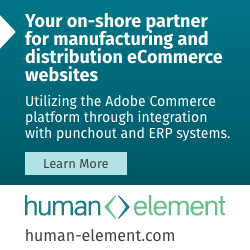 With Human Element, you will build a strategic partnership with experienced on-shore strategists and developers who understand the pain points unique to manufacturers and distributors. Using Agile methodologies and proven eCommerce website development strategies, our team positions clients for success.