ETO is a type of manufacturing process in which a product is designed, engineered, and finished after an order has been received. The product is engineered to meet the specifications desired by the received order.
ETO Manufacturers Can Finally Offer Online Shopping via bCommerce
Thomas R. Cutler | TR Cutler, Inc.
Complex manufacturers, often with engineered-to-order (ETO) custom one-of-a-kind products are almost never offered online. Unlike repetitive manufacturers with fixed SKUs (even tens of thousands of SKUs) ETO manufacturers have been unable offer customers an online shopping experience. ETO is a type of manufacturing process in which a product is designed, engineered, and finished after an order has been received. The product is engineered to meet the specifications desired by the received order. The ETO process is used for very complex products or very specialized products.
Until now, the very complexity of large B2B transactions prohibited any way to simplify and replicate the kind of similar consumer driven experiences in shopping patterns. Build-to-order (BTO) solutions (with variables in color or features) can be customer selected and converted to an online order.
In the ETO space the buyer wants the same opportunity to self-select and gain confidence purchasing exactly what they want while relieving tension during interactions with sales people. bCommerce by Atlatl Software created the first solution allowing ETO buyers the ability to pre-shop, gain clarity which often equates to more accurate purchases.
The ETO manufacturing process is characterized by the engineering activities which are added to the product lead time. To speed up the process the concept of concurrent engineering, lean, and integrated product development is followed. ETO manufacturers develop a flexible work environment and are demand driven. They deliver the right solution for the order that does not contain all the details. The engineering development is added to the product lead time. This is a technique for companies which leverage sales by developing products that are custom made, ensuring the product will fit in the manufacturers' plant floor.
Complex manufacturers lost the opportunity to provide a consistent, journey-driven, branded customer experience, similar to repetitive or BTO manufacturers. bCommerce creates an opportunity to drive online traffic through a buying experience and no longer are sales teams the only source of project buying experiences. No longer are potential customers lost because they are reluctant to engage with a sales representative during their initial product inquiries.
For the manufacturing provider, adding bCommerce to the company website enables a distinct competitive advantage: Experience. It is the new competitive marker creating superior online offerings and resources critical in the age of digital transformation. This solution advances the Industry 4.0 and lean manufacturing initiatives.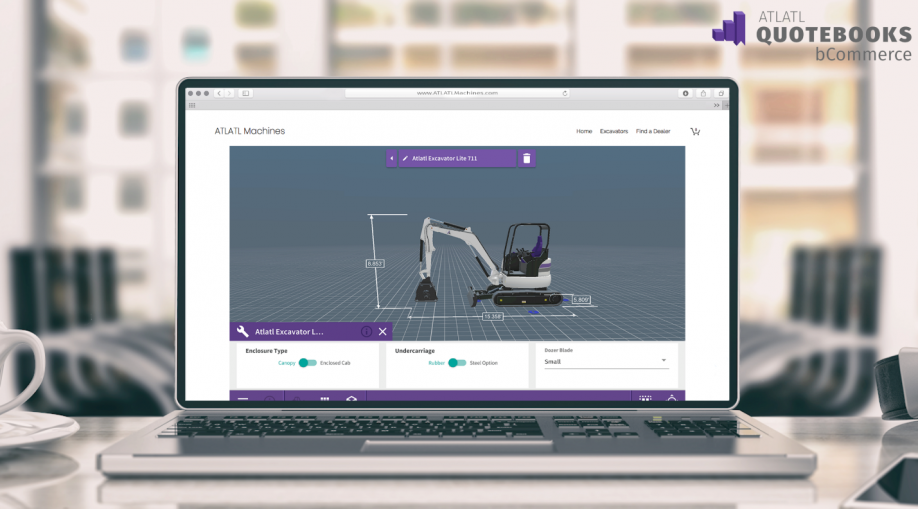 Building on the manufacturing-specific Visual CPQ (Configure Price Quote) platform, bCommerce allows direct access to Atlatl's 3D Visual Configurator from a web browser.
Jennifer Letourneau, Director of Product at Atlatl Software noted, "The dramatic change in the consumer experience has driven a power shift in the B2B buying experience. Retail giants like Amazon and Walmart are redefining consumer expectations and the trends show that manufacturing customers will follow. This ground-breaking solution creates a unique buying experience to help manufacturers reach more customers than ever."
Buyers can now interact with dynamic product selection from manufacturer's websites and pass those selections on to sales representatives in real-time. Customer and configuration information is captured, giving sales teams access to customers' needs with rapid quoting. Combining access and ease of use with engineering integrity empowers ETO sales teams to sell complex manufactured products online.
The fully integrated platform was specifically built for the manufacturer-dealer/distributor relationship, combining interactive 3D configuration with CPQ functionality to create a manufacturing-specific sales ecosystem. Manufacturers can easily manage and support distributed sales channels and dealers have efficient and accurate tools to quote and sell.
About Thomas R. Cutler
Thomas R. Cutler is the President & CEO of Fort Lauderdale, Florida-based, TR Cutler, Inc. Cutler is the founder of the Manufacturing Media Consortium including more than 6000 journalists, editors, and economists writing about trends in manufacturing, industry, material handling, and process improvement. Cutler authors more than 500 feature articles annually regarding the manufacturing sector and is the most published freelance industrial journalist worldwide.
The content & opinions in this article are the author's and do not necessarily represent the views of ManufacturingTomorrow
---
Comments (0)
This post does not have any comments. Be the first to leave a comment below.
---
Post A Comment
You must be logged in before you can post a comment. Login now.
Featured Product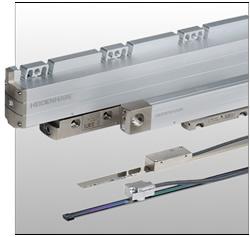 Nothing beats the positioning accuracy of linear encoders from HEIDENHAIN. Available in absolute and incremental versions and ideal for a variety of applications-including machine tools, semiconductor machines and medical machines-these measuring solutions combat a variety of issues that erode precision.