Unitronics newly-released UniStream® 5" is a multi-function programmable logic controller in a superbly compact hardware profile: PLC+HMI+I/O built into a single unit.
Unitronics newly-released UniStream® 5" is a multi-function programmable logic controller in a superbly compact hardware profile: PLC+HMI+I/O built into a single unit.

All-in-One, compact PLC+HMI with built-in I/Os fills a niche in the programmable controller market—serving OEMs and system integrator who need space-saving controllers that deliver the functionality to control complex machines, while creating a competitive advantage via a color-touch HMI panel.
This All-in-One controller is available in two series: UniStream 5" and UniStream 5" Pro. Both series support SNMP, VNC, FTP, SMS, email, and communications via GSM/GPRS modem. The Pro version also offers a built-in Webserver, audio jack, and video support, as well as SQL, a plus for system integrators and OEMs facing Industry 4.0.
The Hardware
UniStream 5", with its resistive color touch-screen reduces space and wiring requirements, and eliminates the need to set up Panel-PLC communication.
Built-in I/O configurations vary according to model, offering digital, analog, high-speed and temperature I/Os. Users can expand the configuration up to 2,048 I/O points.
Built-in COM ports include Ethernet, 1 USB host and 1 Mini-B USB device ports; additional add-on ports for serial and CANbus are available.
Powerful Programming
The rich feature range of UniStream includes auto-tuned PID, data logging, data tables and Recipes, data sampling displayed via built-in Trends and Gauges, Alarms, multi-level passwords, and plug & play communications for CANopen, CAN Layer2, MODBUS, EtherNet/IP, and more.
A Re-Use paradigm enables the programmer to build Ladder and C functions, design HMI screens, and create Web pages in multiple languages including Asian languages—then save it all in a Library to reuse in other projects.
Another benefit to the bottom line for the OEM and system integrators is Unitronics standard policy of customer care—no hidden costs or tiers. All software, utilities, and support—including membership in Unitronics Community Forum—are provided at no additional charge
########
About Unitronics:
Unitronics designs, manufactures, and markets quality PLCs for the global market. Easy -to-use, efficient, and affordable, our products have been automating processes, systems, and stand-alone applications since 1989. We maintain more than 160 distributors in over 55 countries around the globe, enabling our customers to purchase our products with local marketing support.
Unitronics' field-proven PLCs automate hundreds of thousands of installations in diverse fields: petrochemical, automotive, food processing, plastic & textile, energy & environment, water & waste water management—anywhere automated processes are required.
Unitronics programmable controllers have been honored by Frost & Sullivans 2016 Product Line Strategy Leadership Award, and have received numerous trade awards.
Featured Product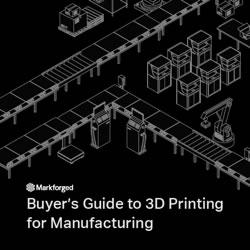 3D printing has become a powerful force in today's manufacturing industry from prototyping to tooling and fixtures to custom, end-use parts. Many businesses struggle to find the right solutions to fit their needs and provide ROI. Selecting the right platform to prevent manufacturing roadblocks is vital to optimizing your manufacturing line productivity. Download the all new buyer's guide to help you evaluate the benefits of 3D printing and dispel misconceptions, understand the pros/cons of various 3D printing processes and materials, and assess the key considerations in selecting a 3D printer.