Why STEM needs fresh ideas to bring about the fourth Industrial Revolution
Alan Tovey for The Telegraph: A business buzzword of the moment, Industry 4.0, is widely used but little understood. It's an elegant way of describing the concept of combining automation and data in manufacturing to create "smart factories" by bringing together computing, the internet of things, artificial intelligence and "cobotics" – humans and machines working together.
Successfully embracing Industry 4.0 has the potential to revolutionise manufacturing, with factories operating almost autonomously and generating huge efficiencies. No wonder it's often referred to as the fourth Industrial Revolution, with the first three being mechanisation powered by steam and water, mass production on assembly lines and automation respectively.
But for this latest revolution to take place, it needs the people with science, technology, engineering and mathematics (STEM) skills to develop the advanced systems required for this highly digitised economy – and that is where the problem lies. Full Article:
Comments (0)
This post does not have any comments. Be the first to leave a comment below.
---
Post A Comment
You must be logged in before you can post a comment. Login now.
Featured Product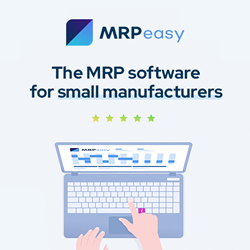 Always know what you have in stock and what you'll need to fulfill orders. Never forget to order parts on time or fail to notice a late delivery from your vendor. Easily create manufacturing orders and schedule them automatically according to resource availability or delivery deadline. Generate accurate cost and lead time estimates and provide customers with quick quotes. Receive notifications when orders are late or inventory levels reach a critical point. Ensure seamless communication between sales, production, warehousing, procurement, administration, and finance. Integrate with popular accounting, CRM, and e-commerce apps. MRPeasy is an ERP software for small manufacturers that gives you all that and more. Our users report a 54% average improvement in the overall performance of their business and a 42% increase in on-time deliveries. Try for free, no credit card needed.