Web-connected solution prompts timely maintenance, helps manage filtration costs
Known for their highly innovative USA built CNC cutting solutions, MultiCam will be showcasing four different cutting technologies at FABTECH in Atlanta, GA on November 6-8th, 2018.
Preventing mistakes or defects in manufactured products and avoiding problems when delivering solutions or services to customers are natural concerns to EMS providers. Digital microscopes integrated as part of the Quality Assurance in production and R&D departments can often play an important role to clear these concerns.
Range of Versatile to Customized Fluids for Tube & Pipe, and Drawing & Forming Applications
-New Jobsite Skid with Onsite Mixer, Smart Cylinders and Interactive Cobots on Display -Miller® vs. Lincoln® Challenge Allows Attendees to Compare and Contrast -Seminars Help Customers Optimize Workflows and Maintain Production Quality
Bihler of America, a complex components manufacturing and automation innovator, is showcasing its highly efficient, servo-driven, 4 Slide-NC at FABTECH 2018, in booth A-1219.
Due to increasing demand within the aerospace industry for more efficient ways to produce stronger, lighter parts, Beckwood will showcase hot forming, superplastic forming, and sheet hydroforming press capabilities at FABTECH.
Presentation focuses on digital transformation in manufacturing
With its more modern look and feel, the new logo design better conveys the current and future direction of the FABTECH brand.
Records 1 to 9 of 9
Featured Product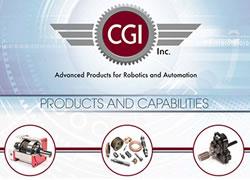 From Prototype to Production CGI Motion enables design excellence across a wide range of industrial applications. We thrive on customer driven innovation in precision gearbox, precision machined components and electro-mechanical assembly solutions ranging from aerospace systems to semiconductor applications. We are your design and manufacturing partner helping to differentiate your product, machine or innovation. Our team of problem solving engineers and product managers can bring your application to market on time and under budget. Whether it's an improvement on a current design or groundbreaking new designs, CGI has the know-how and team to enable design excellence. Connect with us today to explore what CGI Motion can do for you.