The 'AI Anywhere' solution, powered by NVIDIA DGX, from Microway & DDC, provides complete AI-ready infrastructure, within a self-contained, high density, modular DDC data center platform which can be rapidly deployed, in nearly any environment, without the need for data center space or resources. This platform removes traditional constraints associated with deploying HPC infrastructure, while providing a future-proof, and scalable environment which can support any number of DGX based systems for an array of high-end computing needs.
Greene Tweed announces the launch of Fusion™ 665, an ultra-low-temperature and chemical-resistant elastomer.
Leading High-Performance Seals, Fiber Optic and Electrical Connectors to Be Showcased
Web-connected solution prompts timely maintenance, helps manage filtration costs
Known for their highly innovative USA built CNC cutting solutions, MultiCam will be showcasing four different cutting technologies at FABTECH in Atlanta, GA on November 6-8th, 2018.
Preventing mistakes or defects in manufactured products and avoiding problems when delivering solutions or services to customers are natural concerns to EMS providers. Digital microscopes integrated as part of the Quality Assurance in production and R&D departments can often play an important role to clear these concerns.
Range of Versatile to Customized Fluids for Tube & Pipe, and Drawing & Forming Applications
-New Jobsite Skid with Onsite Mixer, Smart Cylinders and Interactive Cobots on Display -Miller® vs. Lincoln® Challenge Allows Attendees to Compare and Contrast -Seminars Help Customers Optimize Workflows and Maintain Production Quality
Bihler of America, a complex components manufacturing and automation innovator, is showcasing its highly efficient, servo-driven, 4 Slide-NC at FABTECH 2018, in booth A-1219.
Due to increasing demand within the aerospace industry for more efficient ways to produce stronger, lighter parts, Beckwood will showcase hot forming, superplastic forming, and sheet hydroforming press capabilities at FABTECH.
Presentation focuses on digital transformation in manufacturing
With its more modern look and feel, the new logo design better conveys the current and future direction of the FABTECH brand.
Records 1 to 12 of 12
Featured Product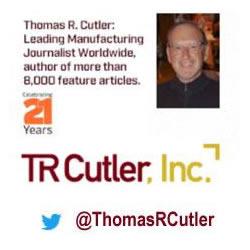 Cutler has authored more than 7000 articles for a wide range of manufacturing periodicals, industrial publications, and business journals including most of the leading monthly trade publications.