Manufacturing

Marketing Partner
---

Fronius Perfect Welding
We aspire to produce more than just welding systems, which is why we are the innovation leader for arc welding and are constantly developing welding processes further. In addition to welding technology for robot applications, we offer solutions for manual gas shielded arc welding, for MIG/MAG, TIG, and MMA welding processes. We also implement automated, complete welding solutions tailored to customer requirements in the field of welding automation. After all, welding creates connections - between metals, between industries, and between people. Connected by the arc, by passion, by the beat of welding.
---
Mailing Address:
Froniusplatz 1
Wels , 4600
Austria
Tel: +43 7242 241 0
Email: sales@fronius.com
Website: https://www.fronius.com/en/welding-technology
Company Category: Engineering
Company Sector: Manufacturing
Keywords: welding, robotic, tig, mma, arc
Partner Status: Marketing Partner
---
Products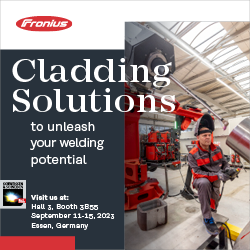 Ever since the invention of our "cold" MAG welding process Cold Metal Transfer (CMT), if not earlier, we have continuously achieved a technological edge in many welding-related areas, resulting in cutting-edge mechanized and automated welding systems. Advanced power source technology stabilizes the arc and ensures perfect welding results. Modern monitoring sensors optimize guidance of the welding torch and compensate for component tolerances. Last but not least, smart data documentation systems assist in perfecting the welding process. Collaborative systems, smart sensor technology, software solutions for data management, and offline programming including welding simulation open up profitable welding opportunities for metal processing companies starting with a single batch. That is why our robotic welding cells prove profitable not only for large companies, but also for small and medium-sized enterprises.
---
Articles
Digital weld sequencing helps companies to quickly train new welders in times of skills shortages and thereby steadily produce better welding results.
---
White Papers
This Company does not currently have any White Papers
---
Press Releases
The new augmented reality glasses make the weld, the welding process, and hence the entire welding experience astonishingly realistic, while the Welducation Campus rounds off the entire training package by teaching the theoretical aspects of welding.
Under the motto "Unleash your welding potential" at the SCHWEISSEN & SCHNEIDEN trade fair in Essen, Fronius exhibited future-proof and profitable welding solutions for manual work, series production, and automation.
Error-free and efficient welding made easy: With the new Fronius WeldCube Navigator software, there is now a digital welding sequence plan available for TPS/i.
---