Manufacturers operating multiple plants whether within a single geography or internationally can now gain more insight into the effectiveness of their auditing programmes throughout their portfolio with the introduction of the EASE Summer 2021 Release.
EASE Inc, has released its latest update to improve how audit metrics are reported across plants, facilitate data privacy management for organisations with specific data location requirements and provide greater administrative control over shared documents. Additionally, the EASE Summer 2021 release makes it even easier to identify and address audit findings.

The EASE platform is currently in operation across 40 countries, and in more than 20 languages. Until now, many enterprise organisations, especially those with facilities in multiple countries, have had to tackle geographic dispersion. EASE has tackled these silos with its Summer 2021 Release, enhancing the ability for users responsible for multi-site audit programs to evaluate audit results and compare performance across all the sites they manage.
The EASE Summer 2021 Release also mitigates the challenges global organisations have faced in meeting growing data privacy requirements, such as GDPR. It does so by giving manufacturers the ability to host organisational data securely in locations which adhere to unique information-sharing protocols according to geographic specific data privacy legislation. This enables manufacturers to more efficiently navigate the unique data requirements that govern them according to their location.
Eric Stoop, CEO of EASE, Inc, said: "With many enterprises managing plants around the globe, manufacturers often carried out their auditing programmes in silos. Site administrators did not have a clean way to evaluate audit results at a multi-site level, and in turn struggled to compare performance across the plants they are responsible for. Too often, visibility into leading indicators of quality issues that could occur at more than one plant were missed.
"Our Summer 2021 Release addresses this need, creating multi-site report panels for metrics like audit completion by site and mitigation status by site. This makes tracking audit metrics across multiple plants far easier. And with the Summer 2021 Release also able to navigate unique data requirements, and provide more effective data management, we anticipate application performance to improve globally."
In addition to increased enterprise functionality, the latest EASE release delivers deeper insights into individual audit results. For any audit conducted in EASE, users will now be able to access question responses, mitigations, and complete audit history within their own dedicated tabs. This is especially beneficial for manufacturers that must maintain a detailed history of missed, reassigned, and completed audits due to customer-specific requirements.
EASE Summer 2021 Release's various features will be made available throughout the rest of Q3 (July, August and September).
For more information visit ease.io
About Ease
EASE is the innovative mobile platform that helps manufacturers simplify how they administer, conduct and respond to plant floor audits. With best-in-class support for layered process audits, safety, 5S and more - EASE drastically reduces labor costs and delivers insights that ensure audit programs drive real business value.
Leading automotive, aerospace and manufacturing organisations around the globe depend on EASE's enterprise scale, expertise and customer-centricity. EASE is a privately held company based in Mission Viejo, California. To learn more, please visit www.ease.io.
EASE - Insights that Drive Performance™
Featured Product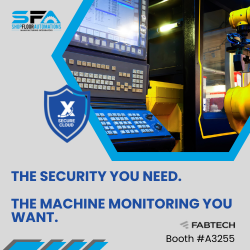 Disparate machines, each with a unique control system and communication protocol with varying ages, can create challenges for manufacturers driving continuous improvement initiatives. There is often limited visibility to make data-driven decisions that can impact every aspect of a manufacturing organization. The Scytec DataXchange machine monitoring solution resolves these issues by capturing real-time, Industrial Internet of Things (IIoT) data from a variety of equipment - from CNCs and PLCs, to robots and manual machinery - through universal machine connections. Leveraging automated data collection, DataXchange exposes and synthesizes equipment data to give your teams full transparency on the shop floor to transform your business into a smart factory.