JBT Corporation's PLF International launches all-new PLF Virtus™, the best-in-class range of linear vacuum filling machines designed specifically to handle a wide range of milk-based nutritional powders.
CHICAGO, IL — JBT Corporation's PLF International, a leading technology solutions provider to the global food and beverage industry, announces the launch of its new PLF Virtus™ linear vacuum filler. PLF Virtus™ is the best-in-class new range of linear vacuum filling machines, designed specifically to handle a wide range of milk-based nutritional powders including infant formula and specialized medical nutrition.

Developed by PLF's experienced team in the UK, the Virtus incorporates a new patent pending nozzle design that delivers up to 3-times higher throughput per head than previous machines, which greatly reduces changeover and cleaning times, maximizes yield, and reduces operational costs. The new range will be offered in 1,2,3,4 and 6 head models, and run at speeds of up to 180 can per minute with configurable options to meet the needs of its' customers.
"This is a very exciting development for us, as the higher throughputs that are now possible mean that the Virtus is an attractive alternative to rotary machines currently operating up to 180 cans per minute. The operational cost savings on utility consumption, cleaning time, changeover time, and maintenance that we can achieve with Virtus are very significant. I believe we now have the most competitive and sustainable filler in this industry" said Amedeo Scapin - Global Director.
The introduction of PLF Virtus builds upon their industry-leading reputation supplying vacuum filling technology to leading global brands and has become synonymous with the highest levels of safety, hygiene, and quality. Compared to auger filling systems, PLF's vacuum filling system has no moving parts in contact with the product, which eliminates any risk of product contamination, as well as the possibility of powder breakdown during filling.
"For nearly three decades, PLF International has been on a journey to meet the demands of the modern infant formula producers by simplifying our technology and reducing operational costs while maintaining the high quality and benefits of our vacuum filling technology," said Carlos Fernandez, Executive Vice President of JBT Corporation and President, Diversified Food and Health. "We are thrilled to offer the cutting edge PLF Virtus and expand on our commitment to provide the safest and most effective technology to our customers, ultimately providing the best possible products to the end-consumer."
To learn more about JBT's PLF International, please visit here. You can also learn more about each of JBT's technologies and business units by visiting https://www.jbtc.com.
###
About PLF International
Since 1994, PLF International has designed and manufactured what is considered to be one of the most flexible, gentle handling, user-friendly powder filling machines - for rigid and semi-rigid containers - in the world. PLF International joined the JBT family of brands through its acquisition in 2017 and is headquartered in Ardleigh (Essex), England.
About JBT
JBT Corporation (NYSE: JBT) is a leading global technology solutions provider to high-value segments of the food & beverage industry with focus on proteins, diversified food and health segments and automated system solutions. JBT designs, produces and services sophisticated products and systems for multi-national and regional customers through its FoodTech segment. JBT also sells critical equipment and services to domestic and international air transportation customers through its AeroTech segment. JBT Corporation employs approximately 6,200 people worldwide and operates sales, service, manufacturing and sourcing operations in more than 25 countries. To learn more about JBT FoodTech, connect with the company on Facebook, Twitter and LinkedIn.
Featured Product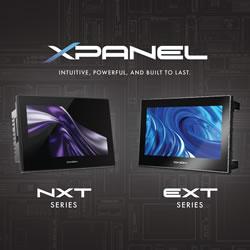 Introducing the Xpanel eXT and nXT series, advanced industrial HMI solutions that set a new standard for performance and usability. Utilizing our brand new Canvas HMI software for project creation, the Xpanel eXT and nXT series deliver a seamless and efficient user experience. They combine industrial-grade touch technology, powerful embedded OS hardware with a quad-core CPU, and an easy-to-use runtime platform. The Xpanel eXT and nXT series are specifically designed to optimize and streamline industrial operations, enhancing your HMI experience.