Improved design offers added value with increased configurability and minimal maintenance.
NORD's newly improved NEMA and IEC input adapters offer improved mechanical and thermal performance, giving users more flexibility in designing drive systems and allowing for a broader range of application and environment-specific concepts through extended options such as integrated backstops and speed sensors. The redesigned input adapters are available NEMA sizes 250TC - 400TC and from IEC sizes 160 - 315.

These innovative NEMA/IEC input adapters showcase improved technical capabilities - 3600 rpm max input speed, increased bearing life, and serviceability. They also come equipped with FKM seals as a standard and bearings that will last for a minimum of 25,000 hours, resulting in trouble-free operation for longer periods before requiring maintenance.
NORD's redesigned NEMA and IEC adapters are made of cast-iron and consist of a single casting that eliminates the need for adapter plates. This manufacturing process reduces the total number of parts that need to be stocked, resulting in a lower sell price and providing better overall value. The improved housing also results in a significant reduction in heat generation, nearly -20 K less temperature rise compared to the legacy version. The adapters come standard with a fail-safe ROTEX coupling and are designed for easy integration of backstops and speed sensors to meet application needs. To support commissioning and service, an inspection cover was added for quick feedback on engagement and spider condition. Perma-lubricators and grease drain cups will no longer be needed as the new adapters come prepared with lifetime grease as well as provisions for re-greasing if necessary, adding to the low maintenance advantages these NEMA and IEC adapters provide.
For more information on NORD's new NEMA and IEC adapters, contact 888.314.6673 or visit www.nord.com.
Featured Product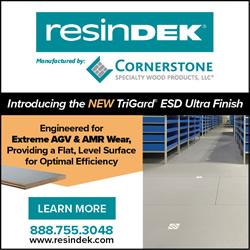 To maximize the productivity of an autonomous mobile robot (AMR) or automatic guided vehicle (AGV) deployment, it's critical to create the optimal environment that allows the vehicles to perform at their peak. For that reason, Cornerstone Specialty Wood Products, LLC® (www.resindek.com) created the TriGard® ESD Ultra finish for its ResinDek® engineered flooring panels. The TriGard ESD Ultra finish is ideal for high-traffic robotic applications characterized by highly repetitive movement patterns and defined travel paths.