The company's efforts to reconcile economic efficiency and sustainability have seen them achieve rankings in the top six percent of manufacturers in the industry assessed by EcoVadis.
WAUNAKEE, Wis. (April 13, 2023) - NORD DRIVESYSTEMS was assessed by the global sustainability rating agency EcoVadis in 2022 and awarded the silver sustainability certificate. The company received 65 out of 100 points, placing them in the 89th percentile rank and significantly higher than the average ratings scored by other companies in the industry. In the overall ranking, NORD landed in the range of the top one percent of companies evaluated in the environment category and in the top eleven percent of the sustainable procurement category.

"We are very proud to have achieved this certificate," explains Torsten Schultz, President of NORD DRIVESYSTEMS USA. "We have been working persistently to create products that deliver high-efficiency, lower energy consumption, and reduce overall costs."
In addition to innovations and energy efficiency, the company also takes social responsibility towards its globally active employees, customers, suppliers, and partners with its Corporate Social Responsibility (CSR) measures. They assume responsibility locally on site as well as globally by carefully considering the consequences of business decisions and activities in terms of economic, technological, social, and ecological outcomes. NORD aims for cooperative partnerships and expects their business associates to uphold the same integrity, values, and objectives that they do to reach the common goal of merging economic efficiency with environmental protection and energy savings.
The company's sustainability strategy not only includes an environmental resource-saving approach but also focuses on the development and manufacture of energy-efficiency drive solutions for ecologically relevant industries such as waste water treatment plants, recycling and biogas plants, wind energy farms, and large transport systems that often require large energy supplies. Their latest innovations include the highly efficient IE5+ product line consisting of the DuoDrive integrated gear unit and motor, IE5+ synchronous motors, and NORDAC ON/ON+ variable frequency drives. This series not only offers some of the highest efficiencies currently available in the industry but also works to reduce the number of system variants and Total Cost of Ownership (TCO).
NORD DRIVESYSTEMS is also an ISO 14.001 certified company. ISO 14.001 is an international environmental management standard that requests companies all over the world to proactively maintain and improve their environmental impacts. NORD has been certified since 2015 and have committed themselves to avoid environmental pollution and to continuously improve sustainability efforts.
To learn more about NORD's sustainable and energy efficient solutions, visit www.nord.com.
###
About NORD DRIVESYSTEMS® Group
With more than 4,700 employees, NORD DRIVESYSTEMS has been developing, producing, and selling drive technology for over 50 years, and it is a global leader among full-service providers in the industry. In addition to standard drives, NORD delivers application-specific designs and solutions for special requirements, such as energy-saving drives or explosion-protected systems. NORD has subsidiaries and sales partners in 98 countries worldwide. The dense sales and service network guarantees optimal availability, enabling short delivery times, and customer-oriented service. NORD produces a very diverse range of drives for torques from 88 lb-in to more than 2.5 million lb-in, provides motors in the power range of 0.16 - 1,341 hp, and manufactures frequency inverters with the required power electronics of up to 200 hp. Inverter solutions are available for conventional control cabinet installations as well as for decentralized, fully-integrated drive units. Visit nord.com.
Featured Product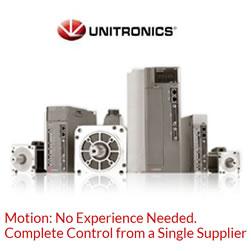 Unitronics' line of AC Servo Drives & Motors changes the traditional approach to motion control. They are simple to set up and painless to program. Unitronics Servos simplify implementation of motion applications while minimizing complexity and reducing development time. Some of the easy-to-use features in this new line include implementing motion control easily with ready-made motion code, embedded diagnostic tools, and automatic communication setup.