SAE International® and ASM International Partner to Expand Technical Program, Exhibit Hall and Networking
To address the fundamental issues and opportunities facing the aerospace industry today and in the future, SAE International announced today that AeroTech® will take place March 15-17, 2022, at the Pasadena Convention Center in California. The leading aerospace event brings together engineers, executives and professionals to discuss critical topics on a neutral platform for the benefit of the entire industry.

This year, SAE has partnered with ASM International to provide an unparalleled program for industry leaders to network, discuss and innovate. The three-day program, which includes access to ASM's AeroMat technical program, will address critical topics in aerospace and defense including: sustainability; automation; artificial intelligence; autonomous and unmanned systems; electric and connected aircraft; air taxis; additive manufacturing; and more.
"AeroTech brings together thought leaders and peers from across the global aerospace and defense ecosystem committed to pushing the boundaries of what is possible," said David Alexander, Senior Director, Aerospace Standards, SAE International. "And taking inspiration from the impressive keynotes, technical and panel sessions, we will also have a number of SAE aerospace standards committees meeting to progress the development of industry standards that will propel the industry for years to come."
Through an array of panel discussions, technical sessions and keynote presentations, participants can interact with the brightest industry minds to discuss practical applications, implementation of industry innovations and cutting-edge research.
Over the three days, AeroTech will feature keynote addresses from industry leaders including:
Dr. Naveed Hussain, Chief Technology Officer, Boeing and Vice President and General Manager, Boeing Research & Technology
Roberto Guerrero, Deputy Assistant Secretary of the Air Force, Operational Energy
Dr. Danny Howard, Director of Space Electrics for Space & Launch Engineering, Boeing Defense, Space & Security (BDS)
Dr. Parimal Kopadekar, Director of NASA Aeronautics Research Institute (NARI)
Davis Hackenberg, Advanced Air Mobility (AAM) Mission Integration Manager, NASA
Ramy Mourad, Director of Engineering, Urban Air Mobility, Boeing
Melissa Orme, Vice President, Additive Manufacturing, Boeing
Annabel Flores, President, Electronic Warfare Systems, Raytheon Intelligence & Space
Jason Clark, Vice President - Boeing Commercial Airplane, Fabrication and Supply Chain Engineering, Boeing
Susan Ying, Senior Vice President, Ampaire
Participants will also have access to interactive panels, technical programs and networking forums including the AeroConnect Challenge Reception, sponsored by Boeing. The SAE AeroConnect Challenge™ is a student engineering design competition that provides an opportunity for students to think critically about current and future emerging technologies in the mobility engineering industry.
AeroTech is sponsored by Collins Aerospace, Boeing, Tektronix, and "Aerospace & Defense Review".
To see the full program and learn more about AeroTech, visit: https://www.sae.org/attend/aerotech.
To register for the event, visit: https://www.sae.org/attend/aerotech/registration.
About SAE International
SAE International is a global association committed to advancing mobility knowledge and solutions for the benefit of humanity. By engaging nearly 200,000 engineers, technical experts and volunteers, we connect and educate mobility professionals to enable safe, clean, and accessible mobility solutions. We act on two priorities: encouraging a lifetime of learning for mobility engineering professionals and setting the standards for industry engineering. We strive for a better world through the work of our philanthropic SAE Foundation, including award-winning programs like A World In Motion® and the Collegiate Design Series™. More at http://www.sae.org.
Featured Product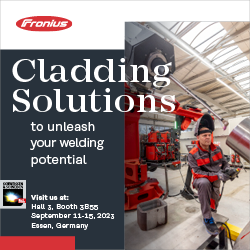 Ever since the invention of our "cold" MAG welding process Cold Metal Transfer (CMT), if not earlier, we have continuously achieved a technological edge in many welding-related areas, resulting in cutting-edge mechanized and automated welding systems. Advanced power source technology stabilizes the arc and ensures perfect welding results. Modern monitoring sensors optimize guidance of the welding torch and compensate for component tolerances. Last but not least, smart data documentation systems assist in perfecting the welding process. Collaborative systems, smart sensor technology, software solutions for data management, and offline programming including welding simulation open up profitable welding opportunities for metal processing companies starting with a single batch. That is why our robotic welding cells prove profitable not only for large companies, but also for small and medium-sized enterprises.