Association / Cluster

Marketing Partner
---

SAE International
At WCX 2020 SAE World Congress Experience you will access the latest trends, professional development and knowledgeable contacts you need to overcome today's challenges and those yet to arrive. Here, you'll stay ahead of the curve in the rapidly shifting mobility environment.
---
Mailing Address:
400 Commonwealth Drive
Warrendale, PA 15096
United States of America
Tel: 7247764841
Fax:
Email: customerservice@sae.org
Website: https://www.sae.org
Company Category: Design & Development
Geographic Region: USA - North East
Company Sector: Association / Cluster
Keywords: engineers, aerospace, automative, cad, cam, education
Partner Status: Marketing Partner
---
Products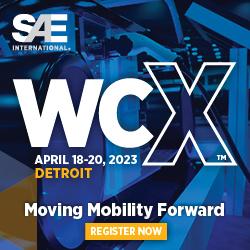 As the global leader in connecting and educating engineers, SAE International® brings you WCX 2020 World Congress Experience, the only place for the latest in consumer metrics, regulatory standards and technical sessions covering the entire vehicle, from bumper to bumper and beyond.
---
Articles
This Company does not currently have any Articles
---
White Papers
This Company does not currently have any White Papers
---
Press Releases
Event Focuses on Shaping the Next Generation of Aircraft Through the Latest Technical Knowledge in Commercial, Military, General Aviation, Rotary Wing and Unmanned Aviation
Tesla and SAE Partner to Support 25,000 K-8 Students Over Four Years with Hands-on Programs and Mentorship
SAE International announces the release of its first suite of Aerospace Material Specifications (AMS) additive manufacturing materials and process specifications which will support the certification of aircraft and spacecraft critical parts by providing a framework to protect the integrity of material property data and provide traceability within the aerospace supply chain.
---