Global manufacturing leader launches instant quoting for 3D printing in key new market
MUNICH, GERMANY (January 30, 2020) - Xometry, the largest global marketplace for on-demand manufacturing, announces today the launch of instant quoting on 3D printing in Europe. Customers will now have access to instant quotes and design-for-manufacturability feedback on 3D printing with just a few clicks via Xometry's Instant Quoting Engine.

Xometry Europe's new 3D printing offerings include Selective Laser Sintering (SLS) and HP Multi Jet Fusion (MJF) printing in six high quality materials and the company will continue to expand its process and material offerings throughout the year. Engineers can update their models and receive price and lead time adjustments in near-real-time for both processes.
Dmitry Kafidov, Managing Director of Xometry Europe, said, "We're thrilled to offer our customers the ability to instantly price custom 3D printed parts. They will now receive prices and lead times for their 3D printing orders within seconds, and be able to order their parts in a few clicks."
In addition to 3D printing on-demand, Xometry Europe offers CNC machining, sheet metal fabrication, and post-processing of metals and polymers through its online platform. In December 2019, Xometry acquired Shift, the largest manufacturing network in Europe. The company has raised $118 million dollars to date from major investors such as BMW i Ventures, Robert Bosch Venture Capital, Dell Technologies Capital, and GE Ventures.
About Xometry
Xometry is the largest marketplace for custom manufacturing, connecting customers with optimal manufacturing solutions through proprietary AI algorithms. Xometry provides on-demand manufacturing and industrial supply materials to a diverse customer base, ranging from startups to Fortune 100 companies. Our global network of over 4,000 partner manufacturing facilities enables us to maintain consistently fast lead times while offering a broad array of capabilities, including CNC Machining, 3D Printing, Sheet Metal Fabrication, Injection Molding, Urethane Casting, and Finishing Services. Xometry's customers include Bosch, BMW, Dell Technologies, and General Electric.
More information about Xometry Europe is available at www.xometry.de or by phone at +49-172-7759133.
Featured Product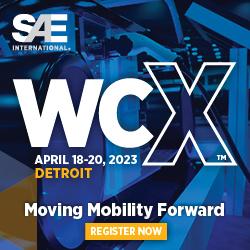 The COMVEC™ Technology Connection is the only North American event that addresses vehicles and equipment spanning the on-highway, off-highway, agricultural, construction, industrial, military and mining sectors. The content for this event is driven by the need to reduce C02 emissions and improve vehicle efficiencies for fuel savings. COMVEC covers the latest and critical need-to-know information impacting global commercial vehicles today and in the future. Make plans to join 850+ technical experts and business leaders for 3 days of professional development in the way of expert-led panel discussions, compelling technical sessions, influential keynotes, world-class networking, and a technology-driven exhibit show floor.