New hardware and IP sensor networking products help manufacturers meet cost, size, and performance demands for industrial, radiography and dental flat panel detectors
Pleora Technologies has introduced new embedded hardware and IP solutions that provide a straightforward way for manufacturers to integrate high-bandwidth Gigabit Ethernet connectivity into flat panel detectors (FPDs).

Pleora now offers the industry's widest portfolio of sensor interfaces for FPDs. The company's market-proven products are widely deployed in new and retrofit radiography, panoramic dental, and cargo screening X-ray applications, and are now being evaluated for a wider range of industrial and non-intrusive inspection systems. Pleora's off-the-shelf products help manufacturers bypass cost, complexity, and design time associated with sensor interface design, while providing a low latency, high-bandwidth solution to address advanced application and system requirements.
"The X-ray FPD market is growing rapidly, with new applications including non-destructive testing, food inspection, infrastructure monitoring, and border point-of-entry security alongside expanding demand for imaging systems to diagnose and treat medical conditions," said Harry Page, president, Pleora Technologies. "Our extensive portfolio of off-the-shelf sensor interfaces significantly reduce cost and time when compared with in-house design, allowing manufactures to quickly develop and market higher bandwidth FPDs for new applications."
The iPORT NTx-Mini-S embedded interface is a compact, low profile, small footprint drop-in solution measuring just 43.0 x 67.1 x 5.0 millimeters (mm) for fast time-to-market applications. The embedded hardware converts sensor data to packets and sends it with low, consistent end-to-end latency over a 1 Gbps GigE link to receiving software or hardware at distances up to 100 meters over a standard Ethernet connection.
Pleora's new embedded interface complements its existing portfolio of hardware solutions for FPDs. The iPORT NTx-NBT25 and NTx-NBT50 GigE Vision over NBASE-T embedded solutions provide a cost-effective upgrade path for FPD designers by supporting faster 2.5 and 5 Gbps image transfer over low-cost Cat5e cabling.
For higher bandwidth requirements, the CoreGEV-Tx10 GigE Vision FPGA IP Core provides designers with a flexible, zero footprint approach for applications requiring up to 10 Gbps transmission over a standard Ethernet connection. A unique hybrid FPGA accelerator architecture helps reduce development time and risk by allowing designers to run the full GigE Vision protocol from a software-only mode for rapid system level evaluation, implementation, and testing. Once the FPGA design is complete, the hybrid driver can be switched to full acceleration mode, enabling the sensor to utilize the full bandwidth of the 10 Gigabit Ethernet link with no changes to software. This hybrid approach also enables manufacturers to maintain a consistent system level software architecture between static and dynamic panels.
Both the iPORT NTx-Mini-S and CoreGEV-Tx10 work seamlessly with Pleora's eBUS Software Development Kit (SDK); a feature-rich application development toolkit that provides comprehensive APIs for controlling GigE Vision sensors and efficiently receiving image streams. By using eBUS, manufacturers can further shorten time to market and development costs for interfacing their end applications to their sensor.
For more information on Pleora's complete portfolio of embedded hardware and IP solutions for FPDs, visit https://www.pleora.com/products/embedded-hardware.
Featured Product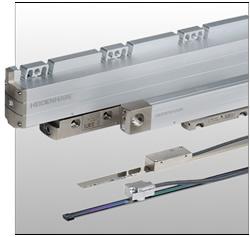 Nothing beats the positioning accuracy of linear encoders from HEIDENHAIN. Available in absolute and incremental versions and ideal for a variety of applications-including machine tools, semiconductor machines and medical machines-these measuring solutions combat a variety of issues that erode precision.