Profel Extrusion & Finishing reduces waste and increases productivity by installing an industrial sieving machine fitted with ultrasonic technology
Profel Extrusion & Finishing specializes in the extrusion of aluminium and processes around 14,000 tons of aluminium per year, 20% of which is used for the production of its windows and doors, while the other 80% is sold to customers in Europe mainly within the construction industry. To ensure only high quality frame products are supplied, the powder paint is screened before it is applied to eliminate any irregularities in the aluminium profiles.

The company was initially using small vibratory sieves but these could not meet capacity requirements as well as the screening accuracy needed. The company therefore approached Russell Finex for a solution to their processing problems, and following consultations, a Russell Compact Sieve® fitted with a Vibrasonic® Deblinding System was provided promptly for testing at the customer's site, to ensure the high quality standards could be met. After successful trials, Profel Extrusion & Finishing purchased four Russell Compact Sieves each fitted with a Vibrasonic® Deblinding System.
The Russell Compact Sieve® is an industrial sieving machine, which due to its compact design can easily be installed into existing production lines. Two of the four purchased sieves were installed at the end of the powder paint manufacturing line while the other two were installed within the powder coating line to sieve reclaimed powder paint. With the Russell Compact Sieves installed, Profel Extrusion & Finishing experienced less downtime and their internal quality assurance department reported less rejected profiles.
With 85 years of experience, Russell Finex is a market leader in supplying separation solutions to a variety of industries. Contact Russell Finex to discuss your separation requirements with an expert engineer.
Featured Product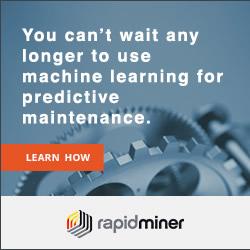 RapidMiner offers a data science platform that's built to enable people of all skill levels across the enterprise to quickly build and operate AI solutions to drive hard ROI for their organizations. Many data science tools are built to create accurate models, but cannot help manage the models into production, where they can have an impact. The platform covers the full lifecycle of the AI production process from data exploration and data prep to model building, model deployment and model operations. RapidMiner can help with a wealth of manufacturing use cases, like designing smart products, running smart factories, forecasting demand, ensuring quality, reducing production downtime, and managing supply chain risk.