Industry Leaders Come Together to Increase Visibility and Interest in Modern Manufacturing Through an Interactive Augmented Reality Experience
NEEDHAM, Mass. - September 27, 2018 -- PTC (NASDAQ: PTC) today announced its support for the nations largest one-day celebration of manufacturing, Manufacturing Day, held this year on October 5. As the inaugural National Partner Sponsor, PTC collaborated with the National Association of Manufacturers (NAM) Manufacturing Institute and Rockwell Automation to create a comic book with an augmented reality (AR) experience. Using the free comic book and app, Manufacturing Day host companies can illustrate the technologies of modern manufacturing to help inspire a new generation to consider the field as an innovative and exciting career option.

"With a major skills gap threatening the viability of the manufacturing industry, a new generation of workers is required, proficient in modern business principles and next-gen technologies like augmented reality (AR) and the Industrial Internet of Things (IIoT)," said Jim Heppelmann, president and CEO, PTC. "It is our goal to foster the adoption of these manufacturing technologies and increase the business use cases throughout the industry. Were honored to partner with the NAM, and continue our collaboration with Rockwell Automation, on such an important initiative."
According to a recent report from Deloitte and the Manufacturing Institute, 80 percent of manufacturers currently indicate a moderate or serious shortage of qualified applicants for skilled and highly-skilled production positions. With the goal to inspire the next generation of manufacturing, PTC developed an AR-enabled comic book, powered by Vuforia, that showcases the latest technology deployed in leading factories. Accessible through the Smart MFG mobile app, the interactive experience provides a unique glimpse into a career in todays modern factories and demonstrates that manufacturing in a smart, connected world is filled with technology, advanced skills, and creativity.
"Modern manufacturing offers high-paying, high-tech jobs, but too many students, parents, and teachers dont know about the opportunities for hands-on, meaningful work in our industry," said NAM President and CEO Jay Timmons, who also serves as board chairman of The Manufacturing Institute. "Changing perceptions is critical to inspiring the next generation. By partnering with PTC and through the creation of the AR-enabled comic book, we are creating new ways of showing the tremendous opportunities a career in modern manufacturing offers."
As part of the partnership, PTCs Jim Heppelmann will join Jay Timmons and the NAM Board of Directors today to present on digital transformation and its role in creating a favorable policy climate for manufacturers. The NAM Board comprises more than 200 of the nations top manufacturing executives, representing large and small companies alike across all industrial sectors.
To learn more about this exciting partnership and Manufacturing Day events across the country, please visit: http://www.mfgday.com/.
About the NAM
The National Association of Manufacturers (NAM) is the largest manufacturing association in the United States, representing small and large manufacturers in every industrial sector and in all 50 states. Manufacturing employs more than 12 million men and women, contributes $2.25 trillion to the U.S. economy annually, has the largest economic impact of any major sector and accounts for more than three-quarters of private-sector research and development. The NAM is the powerful voice of the manufacturing community and the leading advocate for a policy agenda that helps manufacturers compete in the global economy and create jobs across the United States. For more information about the Manufacturers or to follow us on Shopfloor, Twitter and Facebook, please visit www.nam.org.
About the MI
The Manufacturing Institute is the social impact arm of the National Association of Manufacturers. We drive programs and research to promote modern manufacturing and jumpstart new approaches to growing manufacturing talent. For more information, please visit http://www.themanufacturinginstitute.org/.
About PTC (NASDAQ: PTC)
PTC helps companies around the world reinvent the way they design, manufacture, operate, and service products in and for a smart, connected world. In 1986 we revolutionized digital 3D design, and in 1998 were first to market with Internet-based product lifecycle management. Today, our leading industrial innovation platform and field-proven solutions enable you to unlock value at the convergence of the physical and digital worlds. With PTC, manufacturers and an ecosystem of partners and developers can capitalize on the promise of the Internet of Things and augmented reality technology today and drive the future of innovation.
PTC.com @PTC Blogs
PTC, Vuforia, and the PTC logo are trademarks or registered trademarks of PTC Inc. or its subsidiaries in the United States and other countries.
Featured Product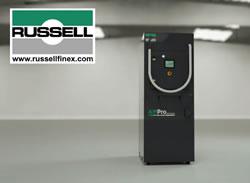 The Russell AMPro Sieve Station™ guarantees the quality of your additive manufacturing (AM) powder, and has been designed to provide optimum sieving efficiency, ensuring your powder is ready for use or reuse as and when you require it. With a simple one-button operation and mobile design, this automated check screener ensures your powder at every stage of the process is qualified for use quickly and safely. The flexibility of the Russell AMPro Sieve Station™ means you can use the system for numerous powder handling tasks - being a modular design ensures the machine can be configured to meet your exact requirements.