Exploring the benefits of real-time OEE monitoring
La Mesa, CA (December 13th, 2017) - Shop Floor Automations (SFA) is holding a machine monitoring software webinar on January 10th. The event will be a live demo of DataXchange and will take place from 10 a.m. to 10:45 a.m. Pacific time. Those in other time zones should adjust their schedules accordingly.

For those who are interested in the benefits of machine monitoring, here are some of the features that DataXchange software boasts:
• Real-time data collection from CNC machines, as well as fabrication and other machine types
• Notifications via email and text when production issues occur with the machines
• Customers who monitor utilization in their shop have noticed up to a 25% increase in productivity
• Can be integrated with other software, such as Bigfoot CMMS ad many ERP systems
• Gives machine operators a clear voice to communicate machine issues to administration
• Makes stand-up production meetings quicker, easier and more productive using real data
• Flexible options - have direct control onsite, or enjoy lower prices with Cloud-based services starting at $45 per month, per machine
An added benefit to participating in this webinar is that you will get to ask DataXchange experts questions. If you are interested in signing up, please visit http://www.shopfloorautomations.com/news/webinars/
About SFA: Shop Floor Automations is (change descript each time). We are on social media on Twitter @SFA_inc, as well as on Facebook, YouTube, & Instagram under our company name. Call for more info at (877) 611-5825 or Email info@shopfloorautomations.com
Featured Product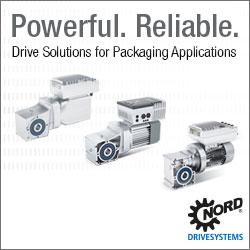 NORD's redesigned line of small CLINCHER parallel gear units showcase increased power and torque capacity for a variety of applications. These re-engineered versions will be replacing the existing SK0182NB, 0282NB, and 1382NB units. They are lightweight, have improved heat dissipation, are more cost-effective, and are available with NORD nsd tupHTM sealed surface conversion for wash-down and extreme environments.