Manufacturing

Marketing Partner
---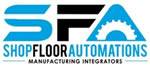 Shop Floor Automations
Founded in 1998, Shop Floor Automations (SFA) is a manufacturing integrator specializing in digitally transformative hardware, software and support solutions to increase the productivity, efficiency and profitability of plant facilities throughout North America. Its combination of manufacturing expertise and a suite of modern solutions, including DataXchange machine monitoring, Predator DNC software and USB CNC hardware, ensures your shop floor is equipped for better communication, control and improvement. To add intelligent automation to your shop floor, contact Shop Floor Automations at www.shopfloorautomations.com.
---
Mailing Address:
5360 Jackson Drive, Suite 202
La Mesa, California 91942
United States of America
Tel: 619-461-4000
Email: info@shopfloorautomations.com
Website: http://www.shopfloorautomations.com
Company Category: Automation & IIoT
Company Sector: Manufacturing
Keywords: shop floor automation, manufacturing, cnc, dnc
Partner Status: Marketing Partner
---
Products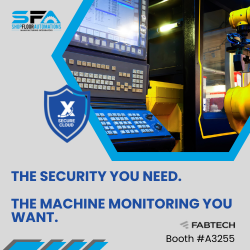 For manufacturers adhering to regulations like International Traffic in Arms (ITAR), Defense Federal Acquisition Regulation Supplement (DFARS) and other security and compliance requirements, the ability to monitor disparate machines, each with a unique control system and communication protocol with varying ages, can make continuous improvement initiatives challenging in the cloud. The Scytec DataXchange solution, available through Shop Floor Automations, resolves these issues by leveraging AWS GovCloud to capture real-time, Industrial Internet of Things (IIoT) data from a variety of equipment - from lasers and press brakes, to saws and robots - through universal machine connections to give teams full transparency on the shop floor through an architected secure cloud solution for a total smart factory transformation.
---
---
White Papers
This Company does not currently have any White Papers
---
---