Industrial IoT startup will feature its "End-to-End" industrial IoT solution from the edge (Fog computing) to the cloud (Microsoft Azure).
FogHorn Systems announced today that it is exhibiting its "intelligent edge" Industrial IoT software solutions at HANNOVER MESSE 2016 in Hannover, Germany. The company is co-exhibiting with Microsoft in the Digital Factory and is also one of the featured exhibitors of Industry 4.0 as part of the HANNOVER MESSE Guided Tours 2016.

"We are excited by this opportunity to introduce our industrial IoT and Industry 4.0 solutions at HANNOVER MESSE 2016," said FogHorn CEO David C. King. "Because this is the worlds largest industrial fair, it gives us a tremendous platform to exchange ideas and to demonstrate the potential of fog computing and edge intelligence to a global audience."
FogHorn Systems will be co-exhibiting with Microsoft in the Digital Factory—Hall 7 C40. Last years fair attracted more than 220,000 attendees from around the world, and this year, President of the United States Barack Obama will join German Chancellor Angela Merkel to open the event.
FogHorns IoT platform brings real-time intelligence to the industrial edge with data ingestion and enrichment, analytics and applications that support predictive maintenance, yield management/asset utilization, anomaly detection and much more at the locations where data is generated. By maintaining a significant percentage of data-intensive operations at the edge of the network instead of processing everything in the cloud, companies can dramatically improve operations and work more effectively at the operation site.
"By 2020, more than 20 billion devices will be connected to the Internet [JG1] ," said King. "Companies that process, analyze, and store their IoT device data at the edge where it is actually generated, can make faster decisions and improve the efficiency of their operations."
About FogHorn Systems
FogHorn is a leading developer of "edge intelligence" software for industrial and commercial IoT applications. FogHorns software platform brings the power of machine learning and advanced analytics to the on-premise edge environment enabling a new class of applications for advanced monitoring and diagnostics, asset performance optimization, operational intelligence and predictive maintenance use cases. FogHorns solutions are ideally suited for OEMs, systems integrators and end customers in vertical markets such as manufacturing, power and water, oil and gas, mining, transportation, healthcare, retail, as well as Smart Grid, Smart City and Smart Car applications.
Featured Product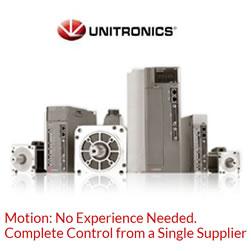 Unitronics' line of AC Servo Drives & Motors changes the traditional approach to motion control. They are simple to set up and painless to program. Unitronics Servos simplify implementation of motion applications while minimizing complexity and reducing development time. Some of the easy-to-use features in this new line include implementing motion control easily with ready-made motion code, embedded diagnostic tools, and automatic communication setup.