The X-LRQ-E Series devices are Zaber's recently released industrial-style stages, combining high load and thrust capabilities in a compact size. The dual-rail design has a low profile measuring only 36 mm high, with a 100 kg load capacity.
The bu
ilt-in motor encoder allows closed-loop operation and slip/stall recovery features with an optional indexed knob for manual control. Like all of Zabers X-Series products, the X-LRQ-E is able to daisy-chain with other Zaber products, and is able to share a single power supply with multiple X-Series products.
Featured Product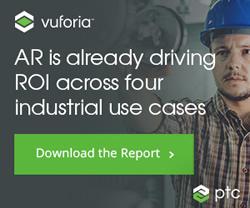 Learn how manufacturers are using augmented reality to onboard new workers faster and to help workers of all skill levels become more effective. Analytics and automation have changed manufacturing operations. Now, augmented reality is similarly transforming human operations. Manufacturers that have embraced AR are seeing newer workers develop skills faster and workers of all skill levels become more effective and responsive. Download this free analyst white paper from ARC Advisory Group to learn how AR is driving value for manufacturers.