Downsized for smaller footprint, without any compromise to 2-stage performance, the new filter series are suitable for use in energy applications such as robotics, power tools, photovoltaic inverters, fast EV charging and battery storage.
Santa Rosa, California, November 28th, 2022 - SCHURTER's new 3-phase filters series FMBC EP and FMBD EP meet IEC 60204-1 for machine applications. The filters are suitable for 3-phase or 3-phase-with-neutral conductor applications. Downsized for smaller footprint, without any compromise to 2-stage performance, the new filter series are suitable for use in energy applications such as robotics, power tools, photovoltaic inverters, fast EV charging and battery storage.

Any machine or system introduced to the European market must bear a CE marking. This marking signifies that the manufacturer guarantees the product is safe for humans and machine equipment, complying with all applicable legal and technical requirements. The requirements according to the Machinery Directive 2006/42/EC and the Low Voltage Directive 2014/35/EU define minimum standards concerning safety and occupational health requirements in Europe. The details for implementation, as outlined in separate specifications, are known as harmonizing standards. One of these harmonizing standards is IEC 60204-1, which defines requirements for electrical safety for machines, and applies to electrical, electronic, and programmable electronic equipment as well as networked machines, including control cabinets. The FMBC EP and FMBD EP filters meet all machine safety requirements outlined in IEC 60204-1 standard, specifically that the filters have a short discharge time of the capacitors so that they have a touchable residual voltage of less than 60 V in 1 or 2 seconds after disconnecting the voltage. The insulation value between phases and ground is at least 1 MΩ, achieved with larger resisters. Additionally, any AC socket on the machine is RCD protected 30 mA for human protection.
The FMBC EP and FMBD EP filters are ENEC and cURus approved. Rated current range is from 16 to 230 A at 520/760 VAC at ambient temperature 40°C. The standard variants are designed for industrial applications with leakage currents <10 mA. Versions rated <3 mA are offered for leakage-critical applications. The dielectric strength is >2.25 kVDC L-L and 2.75 kVDC L-PE. Operating temperature range is from -40°C to 100°C. The new filters are RoHS compliant and bear the CE, UKCA, and REACH markings. Pricing for the FMBC EP according to IEC 60204-1 starts at $82.50 each at 100-pieces. Link to FMBC EP datasheet. Link to FMBD EP datasheet. Link to landing page. For sales and product information, contact Savannah Lee at (800) 848-2600 or by email at info.sinc@schurter.com.
About SCHURTER Inc
The SCHURTER Group is the world's leading Swiss technology company providing components and complex solutions that ensure safe power supply and simplified equipment operation. The company's professional competence, financial independence, innovative strength, and distinctive corporate culture, propel the SCHURTER Group, together with its customers and partners, into the digital future. The safe&easy brand claim not only refers to the products, but also the company's business philosophy, which strives for sustainable success through innovation, high-quality products and service, flexibility, and proximity to customers.
SCHURTER is known globally as an innovator, manufacturer and distributor of fuses, connectors, circuit breakers, switches, EMC products, and input systems. Touch screens and touch panels, capacitive sensor keypads, membrane keypads and housing systems are developed in close cooperation with its customers. Within its business unit Solutions, SCHURTER combines all competencies and puts them at the customer's disposal. SCHURTER products and solutions are developed especially for specific industry segments - medical, data and communication, automotive, avionics & space, energy, and the broader industrial market. SCHURTER considers the quality of its products and services as the key factor to the company's lasting success. Its management and improvement processes are designed and certified according to ISO 9001, ISO 13485, ISO 14001, ISO 45001 and IATF 16949, using the EFQM and Baldrige Excellence Models, as well as the application of Lean Management principles such as Value Stream Planning, Power Innovation, SSO, and Six Sigma.
SCHURTER Inc., Santa Rosa, California is the exclusive North America sales and distribution office for the SCHURTER Group
Featured Product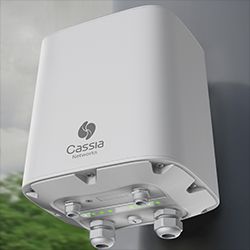 Cassia works with smart IIoT equipment manufacturers to help them overcome their challenges and to provide the competitive edge they need to reach their business goals. We provide companies in various IIoT sectors with a comprehensive suite of enterprise Bluetooth IoT products and solutions they need to enable smart IIoT solutions such as Condition Monitoring, Predictive Maintenance as well as Personnel and Asset Tracking solutions. Cassia's long-range Bluetooth gateways are uniquely designed for today's Industrial IoT enterprises to provide the scalability, flexibility and ease of deployment needed to reduce costs and achieve greater ROI.