Located in booth #7929, Bosch Rexroth is exhibiting the latest in connected automation and Internet of Things (IoT) April 8-11 at Automate 2019 in Chicago
Experience Rexroth's innovative technology solutions firsthand at Automate 2019, April 8-11, in booth #7929 at McCormick Place in Chicago. Rexroth's Mechatronics@Work, Factory of the Future showcase will demonstrate the capability for Bosch Rexroth technologies to achieve customizable batch sizes. With its multi-technology design, Rexroth's Smart Assembly 4.0 Conveyor promotes the i4.0 compatibility of products from Rexroth's linear motion, assembly and automation technology portfolio.

In addition to Rexroth's featured displays, experts will be in the booth to walk visitors through the demos and answer technical questions about creating a factory of the future. Booth #7929 demonstrates why Bosch Rexroth is the ideal partner for making your Factory of the Future a reality.
Rexroth's booth highlights include:
• The Mechatronics@Work demo collects and displays machine and
production data to produce a customized package.
• With its onboard IoT Gateway, the Smart Assembly 4.0 Conveyor can
display any parameter on the system as well as communicate with
other devices and display their data.
• The Smart Assembly 4.0 Conveyor collects and shares i4.0 data with
other systems for manufacturing transparency.
• The ActiveAssist Workstation offers intuitive worker guidance,
allowing teams to easily visualize information.
• The ActiveCockpit is an interactive data visualization and
communications platform designed to support employees and
management personnel.
• Rexroth's I4.0 Cube is a four-sided, interactive touchscreen display
that showcases Rexroth's latest Industry 4.0 innovations.
Bosch Rexroth will display the automation technologies required to make the
Factory of the Future a reality of the present. Stop by booth #7929 and see
Bosch Rexroth's Factory of the Future! Now. Next. Beyond.
For more information, visit www.boschrexroth-us.com/automate
Featured Product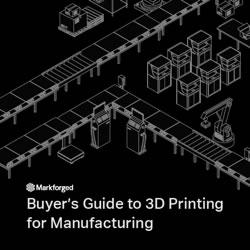 3D printing has become a powerful force in today's manufacturing industry from prototyping to tooling and fixtures to custom, end-use parts. Many businesses struggle to find the right solutions to fit their needs and provide ROI. Selecting the right platform to prevent manufacturing roadblocks is vital to optimizing your manufacturing line productivity. Download the all new buyer's guide to help you evaluate the benefits of 3D printing and dispel misconceptions, understand the pros/cons of various 3D printing processes and materials, and assess the key considerations in selecting a 3D printer.