E-commerce has expanded the way manufacturing companies make sales. What used to be the process of supplying products to stores and then customers are now combined with business to business. It has become more popular to include B2B sales.
How Modern E-commerce is Changing Manufacturing and Supply
Sarah Saker
E-commerce is becoming more prominent for established businesses as creates more possibilities for profit and innovative advancements. The internet has influenced many changes in the world and it has most definitely changed manufacturing and supply. Thinking about the history of manufacturing, it has been always focused on business to customer sales. E-commerce has expanded the way manufacturing companies make sales. What used to be the process of supplying products to stores and then customers are now combined with business to business. It has become more popular to include B2B sales.
B2B e-commerce
Modern day manufacturing has been influenced by the needs of millennials. The way we think about consumers has changed due to the growth of technology and the internet. How things look and work online affect how well manufacturers do in business due to the fact that everyone wants to make all of their purchases online instead of visiting physical stores. Purchases have become more convenient and are made from the comfort of home to decrease the hassle of a long line and wait times and wild sales.
B2B is perfect for companies and manufacturers both to gain perspective and meet the ever changing needs and wants of the new age of consumers. By providing an easy ordering process, these participating companies and manufacturers build profitable relationships.There are many reasons why more and more manufacturers are opting for the B2B and B2C combination sales method. There are myths about B2B e-commerce and are reasons why some manufacturers yield to accepting this new sale method. These myths include:
Complicated ordering processes

Slow speeds of ordering and reordering

Too many decision makers

Payment types are limited
Increased Sales
When the companies manufacturers send products to creates more sales, they both gain more revenue. The relationships they have with companies strengthen due to this. Increased sales are the most important benefit for suppliers and manufacturers. It makes serving customers easier, therefore leading to more customer relationships and more revenue for both parts.
When you have access to new markets in the digital world you increase the number of sales. Your reach expands and when more people want the products you produce, it leads to more money making possibilities.
More Customer Focused
E-commerce is how new consumers get what they need or want at the convenience of the internet and technology. Customers are able to see existing product statuses and order online so this lessens the number of work manufacturers has to do to let customers order statuses over the phone. It is an automatic system. Manufacturing and supply have become more focused on customer satisfaction and their desires. You learn from customers and get the chance to interact with them to create the products they want and when you create the desired products you create more profit.
Innovative Opportunities
Manufacturers need relationships with other companies to thrive and when it comes to e-commerce they can find more outside customers. E-commerce also allows manufacturers to test certain products to see how well they will do. You get data from customer purchases so this leads to creating new products to benefit both the company and the supplier.
There's also the opportunity of access to more prospective distributors. You have a larger space for providing more sales and the possibility of supplying more products increases. Some manufacturers have become more accepting of change and have no regrets about it. Through servitization, certain business models and operations have altered to meet the ever changing needs and desires of customers and the technology they demand.
Efficiency also increases due to back-end systems that collect data on customer actions. Customers order online so this changes the duties of workers from taking orders to focusing on actual customer needs and services like shipping matters.
Brand Awareness
E-commerce allows for more brand analysis by manufacturers. These suppliers become more knowledgeable about what exactly their brand is and are able to maximize profit based on that. Knowing what your brand is to consumers helps determine who to market and provide products to for the maximal profit. By obtaining new customers and reviewing activity on websites, manufacturers are given the chance to see or change who their target audience is. Also, developing a presence online can increase the possibility of more traffic and prospective buyers to manufacturers directly.
Increased Possibilities
Possibilities are almost endless when it comes to e-commerce. More opportunities arise when manufacturers extend their clientele from old business relationships to new ones. Many people have begun drop-shipping businesses and manufacturers who hop on this train have created more revenue easily. These drop shipping businesses purchase products from suppliers which creates more profit for the manufacturers. They create websites with domain names and use e-commerce platforms to gain profit. Which all in all makes both ends more money.
The content & opinions in this article are the author's and do not necessarily represent the views of ManufacturingTomorrow
---
Comments (0)
This post does not have any comments. Be the first to leave a comment below.
---
Post A Comment
You must be logged in before you can post a comment. Login now.
Featured Product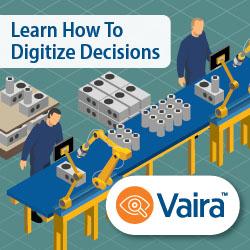 Vaira™ helps manufacturers digitize, automate, and upgrade error-prone manual processes and decisions to boost productivity and increase profits by helping humans make decisions consistent, reliable, and traceable. The camera-based solution is powered by a scalable suite of shop floor-ready apps built on proven machine vision and AI expertise for frontline manufacturing operations, with two-way integration to resource planning tools to help drive continuous analysis, insight, and improvements. Start digitizing immediately, streamlining processes customized to your unique requirements and reduce errors that lead to costs, delays, and quality concerns.