Flat Cables have many technical and performance enhancing advantages over round cables, so Cicoil has released a New Video to clearly illustrate "The Top 5 Reasons to Use Flat Cable in your Design"
Top 5 Reasons to Use Flat Cables Instead of Round
Contributed by | Cicoil
Reprinted with permission from the Cicoil blog:
Advances in Flat Cable Technology have made flat cables much more viable and dependable for many applications where round cables were primarily used. Flat Cables have many technical and performance enhancing advantages over round cables, so Cicoil has released a New Video to clearly illustrate "The Top 5 Reasons to Use Flat Cable in your Design":
The following is summary of each reason to consider utilizing Flat Cables instead of round:
Reason #1: Flat Cables Save Space - they eliminate many of the redundant materials found in round cable designs which allows for a very compact and easy to use flat profile. In fact, flat cables occupy only 50% of the space comparable to round cables, resulting in significant weight and space savings.
Reason # 2: Flat Cables Clean up Messy Wiring in a Single, Compact Package – With advances in machine technology, many more components are required for power, signal and pneumatics, resulting in a spaghetti-like tangle of wires and tubing. This leads to less available space to work with, creates clutter, design problems, reliability issues and ultimately cable failure. Cicoil's Flat cables allow for a more compact cable package, with better reliability and overall cable performance, especially in continuous flexing applications.
Reason # 3: Flat Cables are More Flexible – Unlike round cables that incur excessive twisting and continuous stress on the inner wires, conductors in a flat cable flex in the same cycle, at the same time and in the same plane of motion. Cicoil Flat cables have an extremely tight bend radius, which allows the cables to fit in very confined and compact spaces.
Reason # 4: Flat Cables Have Superior Electrical Performance – In round cables, wires tend to twist and turn inside the jacket, so the spacing and length of travel varies and constantly changes. Cicoil's unique flat cables incorporate equally spaced conductors/pairs with the exact same distance to travel, resulting in faster signal speeds, less skew and higher current-carrying capacity.
Reason # 5: Flat Cables are Simple, Easier to Repair and Stronger – Round cables tend to stress out its inner components due to the unequal load sharing that is required in motion applications. The parallel conductors in a flat cable equally share any stresses and loads, which results in a much stronger and longer life cable.
Additional videos in the series include: "A History of Innovation"; "Flat Cables for a Round World"; "Standard Cicoil Flat Cables Overview": "Mission Critical Flat Cables" and "Harsh Environments" - https://www.youtube.com/user/CicoilFlexCables
About Cicoil
Cicoil has been a leader in designing and manufacturing high performance cable assemblies for over sixty years. The company's Patented Flexx-Sil™ Flat Cable Technology provides high flexibility, extremely long life, and they can withstand temperature extremes from -65 degrees to +260 degrees Celsius. Cicoil's flat cables are used in thousands of demanding applications; including aircraft fuel control cells, semiconductor automation, and the Space Shuttle. Cicoil designs and manufactures its Flexx-Sil™ jacketed cables and cable assemblies in an automated facility in Valencia, California. Cicoil's quality assurance system is certified to the ISO 9001 (AS9100) standard. Visit www.cicoil.com for more information, or call 661-295-1295 to speak to an application engineer.
The content & opinions in this article are the author's and do not necessarily represent the views of ManufacturingTomorrow
---
Comments (0)
This post does not have any comments. Be the first to leave a comment below.
---
Post A Comment
You must be logged in before you can post a comment. Login now.
Featured Product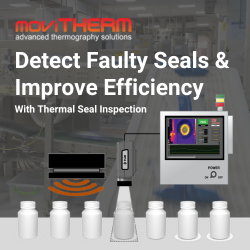 MoviTHERM's Thermal Seal Inspection (TSI) solution provides precise and reliable detection of defects in a variety of packaging types, including pouches, bags, blister packs, bottle caps, and more. By detecting defects in your packages, the TSI solution helps increase efficiency in your production line and ensures top-quality packaging is delivered to your customers every time. With state-of-the-art technology and an experienced team, MoviTHERM is dedicated to delivering accurate inspection solutions and peace of mind to its clients. Contact MoviTHERM today to learn more about their thermal seal inspection solution.