See full demonstrations of these advanced, award-winning software solutions and more in Booth E-3267
Visit Rollon at in the East Building at booth E-4528
Innovative machinery from around the world will be on display at IMTS - The International Manufacturing Technology Show. Key to maximizing the efficiency and effectiveness of those machines are the tooling and workholding products on display in the West Building at McCormick Place.
Tsugami/Rem Sales, the exclusive North American importer of Precision Tsugami CNC machine tools, announced today the details of its International Manufacturing Technology Show (IMTS) display, which features four machines that have never been displayed at this show.
IMTS is an ideal opportunity to check out the level of ease and sophistication that GibbsCAM® 2016 software brings to production machining.
VERICUT 8.0 streamlines the NC validation workflow
A novelty at IMTS 2008, 3D printing is taking its rightful place as an industrial solution.
Records 61 to 67 of 67
Featured Product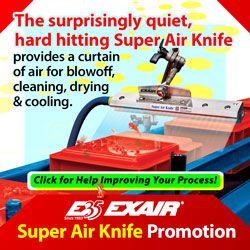 EXAIR's new Basics of Static Electricity Webinar will help you learn what causes static electricity. Static be a large disruptor of processes within manufacturing facilities. It can cause problems with maintaining product quality, keeping process speeds at optimum levels and the morale of personnel experiencing static shocks. Knowing how to identify a static charge, the series of events that are causing the charge, and various ways to eliminate the nuisance, are keys to keeping your facility on top of its game. Attend this Webinar to learn how to determine if static electricity is actually the issue and methods to test for it. Learn several methods used in industry to eliminate static charge. Register to watch our Webinar live on November 7th at 2 pm or on demand. https://exair.co/184_fweb