VERICUT 8.0 streamlines the NC validation workflow
Irvine, CA - At the 2016 International Machine Tool Show (IMTS) VERICUT version 8 will be featured in CGTechs booth E-3346. VERICUT CNC machine simulation, verification and optimization software simulates all types of CNC machining, including drilling and trimming of composite parts, water jet, riveting, robots, mill/turn and parallel kinematics. The software operates independently, but can also be integrated with leading CAM systems.

VERICUT Machine simulation detects collisions and near-misses between all machine tool components such as axis slides, heads, turrets, rotary tables, spindles, tool changers, fixtures, workpieces, cutting tools, and other user-defined objects. Users can also set up 'near-miss zones around components to check for close calls and detect over-travel errors. Machine movements and material replacement can even be simulated while stepping or playing backwards.
New Ribbon Bar
Upon upgrading to VERICUT 8, the first thing an existing customer will notice is the new Ribbon Bar. The Ribbon Bar allows you to quickly select the VERICUT function you want to use. As you move from tab to tab, the Ribbon bar dynamically updates to show the options available for that tab. Options are grouped by the function they perform within VERICUT.
"VERICUT 8 is all about optimizing our customers workflow to quickly access only the menu choices needed at the time," said VERICUT Product Specialist Tom Benedetti. "The Ribbon Bar helps users find the functionality they need quickly and with minimal mouse clicks."
The Ribbon Bar is highly customizable, but to ease the transition for existing users, a "VERICUT Classic" setting organizes all of the menus and options where users previously found them. Several other layout options are included and can be selected depending on the task at hand. Users can also create and save their own layouts as needed for different jobs.
Integration with cutting tool suppliers and tool management systems
As with all software programs, the accuracy of the data input will directly affect the output. So, an accurate model of the cutting tool and holder is required for the effective and accurate simulation of the machining process. Leading cutting tool manufacturers, such as Sandvik, Kennametal and Iscar, now make 3D solid model data available and VERICUT can read in this model data for use in the simulation process. Many of the 3D models are available via the Machining Cloud App, and version 8 has been enhanced to take advantage of more Machining Cloud metadata. This can significantly simplify the configuration of tools for use in VERICUT. VERICUT also interfaces with tool management systems such as TDM Systems, Zoller, and WinTool for access to databases storing cutting tool information. Pre-setting suppliers including Zoller and Speroni can also interface to the software, so tool offsets and exact dimensions can be applied to the simulation process.
Consolidated reporting features
The VERICUT logger now displays messages and reports from many sources. In addition errors, warnings, and other messages from the VERICUT session, it also displays information from AUTO-DIFF and X-Caliper. The messages can be grouped, sorted, and displayed in a variety of ways depending on user preference.
Force enhancements
The Force module, first available with the release of version 7.4, is a physics-based optimization method that determines the maximum reliable feed rate for a given cutting condition based on four factors: force on the cutter, spindle power, maximum chip thickness, and maximum allowable feed rate. In version 8 there are new features to account for entry/exit speeds, "clean-up" feedrates, and tooling information has been rearranged to be more intuitive.
Model manipulation simplified
The ability to translate models using features eliminates the need to create coordinate systems for positional information.
Graphical Tool Path Analysis
A new "Toolpath Trace" feature creates a wireframe of the motion path that can then be measured. No stock model needed to generate a path. Picking on a path in the wireframe automatically sets the simulation to the current line in the NC program.
Control Panel Emulator
Companies and schools can train future CNC machine tool operators using a graphical user interface that looks just like the real control. The virtual machine responds just as the real machine would.
Simulation of all types of machine tool brands
CGTech has worked with end users and machine tool manufacturers to create accurate and effective Virtual Machine Tool configurations. These range from simple 3-axis milling machines to multi-axis machining centers; simple 2-axis lathes to complex mill-turn centers with sub-spindles and robot loading; water jet and laser cutting, and machining/polishing robots.
VERICUT simulates every machine tool brand, including DMG MORI, MAZAK, Makino, Matsuura, Hermle, Chiron, Starrag, WFL, Nakamura-Tome and many more.
Other Products
With the growth of the various additive manufacturing processes, CGTech has developed programming and simulation of the CNC processes used in this technology area, including automated composite fiber-placement and tape-laying.
The automated drilling and fastening machines used for the production of aero-structure components are also supported by VERICUT Drilling & Fastening (VDAF). It allows the user to program, visualize, and simulate CNC drilling and fastening machines. Simulation is independent of programming, and VDAF can simulate NC programs from any programming system for any CNC-automated drilling and fastening machine.
About CGTech
Headquartered in Irvine, California CGTech specializes in numerical control (NC/CNC) simulation, verification, optimization and analysis software technology for manufacturing. Since 1988 CGTechs product, VERICUT® software, has become the industry standard for simulating CNC machining in order to detect errors, potential collisions or areas of inefficiency. With offices worldwide, VERICUT software is used by companies of all sizes, universities/trade schools, and government agencies. For more information, visit the CGTech website at cgtech.com , call (949) 753-1050, or email
Featured Product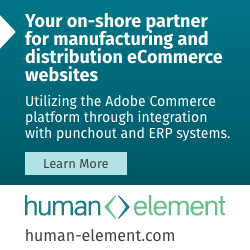 With Human Element, you will build a strategic partnership with experienced on-shore strategists and developers who understand the pain points unique to manufacturers and distributors. Using Agile methodologies and proven eCommerce website development strategies, our team positions clients for success.