IMTS is an ideal opportunity to check out the level of ease and sophistication that GibbsCAM® 2016 software brings to production machining.
MOORPARK, CA - June 1, 2016 - 3D Systems, developer of GibbsCAM® software for programming CNC machine tools, announced today that it will be demonstrating the next generation of its Computer-Aided-Manufacturing software, GibbsCAM 2016, at the International Manufacturing Technology Show (IMTS), September 12-17, 2016, at McCormick Place, Chicago, in Booth # E-3310.

IMTS is an ideal opportunity to check out the level of ease and sophistication that GibbsCAM® 2016 software brings to production machining. Building on its revolutionary UKM (Universal Kinematic Machine) technology, GibbsCAM 2016 delivers increased efficiency, accelerated programming speed, and enhanced visualization and accuracy for CNC machine programming.
New features and functions for GibbsCAM 2016 highlighted at IMTS include:
Enhanced thread milling, including support for multi-point tools, tapered threads for both single- and multi-point tools, and improved simulation.
The latest VoluMill™ technology, providing new toolpath strategies to optimize high speed roughing of large pockets and slots, open face milling strategies that can decrease cutting time by up to 60%, and Technology Expert integration for ready access to optimal speeds and feeds.
New Oriented Turning capabilities, giving users added control in how tools interact with parts. From using a single tool at multiple B orientations to reorienting tool groups for use on a different spindle to full support of Flash Tooling for multiple-orientation turning tools.
Added toolpath strategies for 5-axis milling, enabling users to define toolpath direction using the natural flow of a surface with the new Flowline option, toolpaths with extended width and length, improved 5-axis drilling, multi-stepped pocket roughing and new gouge checking strategies.
Recognized for its ease of use, GibbsCAM was designed to help users eliminate scrap and reduce cycle times. Close work in tandem with shop owners and shop floor employees crystalized the evolving needs and necessities for helping our customers maximize efficiency, safety and profitability while giving them the freedom to create without limitations and deliver significantly better products than ever before.
GibbsCAM 2016 together with 3D Systems full range of end to end software solutions for manufacturing covering SCAN-DESIGN-PRINT-MANUFACTURE-INSPECT can be seen in booth E-3310 and at the 3D Systems booth highlighting 3D Printing technologies at South Building - S-9119.
Featured Product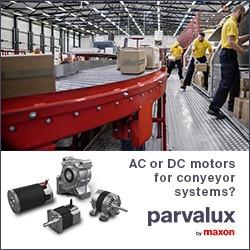 This GB56 right-angled, coupling driven gearbox from Parvalux packs a powerful punch in a small package. A width of 39mm and an output torque of 50 Nm in short-term operation. Ideal for applications where space is at a premium.