METTLER TOLEDO will showcase drum filling systems and industrial weighing solutions at the Continent's Premier Packaging Event PACK EXPO Las Vegas, September 25-27, 2017.
Peco InspX Will Feature a Special Exhibit on Plastic Detection with X-Ray Systems
For frozen, fresh-cut, and IQF packaging, a single new Morpheus XL featuring extra wide jaws can do the work of two older and less capable f/f/s machines. For companies standardized on Rockwell Automation, Matrix developed a new Morpheus offering state-of-the-art Rockwell Automation controls, drives, I/O, and industrial computer. (Matrix Pack Expo Booth # C-3425)
Free Educational Program Held at PACK EXPO Las Vegas (Sept. 25 - 27)
Brenton displays an application customized for the food industry integrating the vision-guided FANUC CR-7iA/L. (Brenton Engineering Pack Expo Booth # C-3025)
ITW Dynatec®, a global leader in hot melt adhesive application systems, will feature its latest SIMPLICITYTM Adhesive Supply Unit (ASU) at Pack Expo 2017, Las Vegas Convention Center, September 25-27, Central Hall booth 4012.
IPak's TF-330GH tray former gives greenhouses and other tray packing operations maximum return on investment though low-cost operation, high throughput, and flexibility in tray type. (IPak Pack Expo Booth #C-2827).
Edson showcases the speed, agility, and flexibility of their new robotic mixed-product case packer. (Edson Pack Expo Booth #C-3027).
Axon shrink sleeve applicators provide a great range of production speeds to suit Pack Expo attendees' needs. (Axon Pack Expo Booth #C-2820)
Aventics Corporation will be in booth S-5903 in the South Lower Hall at PACK EXPO in Las Vegas
Booth exhibit to feature centralized and decentralized control technology, including a working multi-axes machine supported by a single AMKASMART™ drive
Stäubli Robotics will simulate a highly realistic Smart Factory in which different TX2 models in multiple interlinked cells will prove their Industry 4.0 compatibility, as well as their collaborative skills.
Visit Booth #3916 to learn how film splicers increase overall equipment efficiency
Records 16 to 28 of 28
Featured Product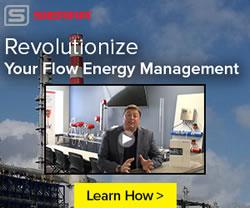 Sierra Instruments announces the launch of its new flow energy solution for managing and optimizing flow measurement for industrial facilities of all sizes. It features Sierra's QuadraTherm 640i/780i thermal flow meters, their InnovaMass 240i/241i vortex flow meters, and their new InnovaSonic 207i ultrasonic flow meter. Designed, built, and calibrated in the USA by Sierra, the Big-3TM share the same revolutionary Raptor firmware and many of the same software apps. They are a complete flow energy solution for flows like compressed air, natural gas, steam, and hot and chilled water. Together, they set a new standard in ease-of-purchase, performance, accuracy, reliability, and ease of use.