Axon shrink sleeve applicators provide a great range of production speeds to suit Pack Expo attendees needs. (Axon Pack Expo Booth #C-2820)
Axon, powered by Pro Mach, assembled a display that offers a shrink sleeve applicator for every production environment, ranging from 70 up to 800 containers per minute (CPM). Axon applicator solutions showcased at Pack Expo in Las Vegas, September 25-27, feature ease of operation and quick changeover. (Axon Pack Expo Booth #C-2820)

The new SLX class of applicators for up to 800 CPM
The SLX platform, designed with ease of operation in mind, features changeover processes made fail-safe through machine self-monitoring and fast, easy-to-make precision machine adjustments. Application speed is automated and calibrated to line rate, allowing the applicator to speed up or slow down as needed without operator intervention. Axon offers the option of incorporating its new patent pending thin film delivery system for film thicknesses down to 25 microns. Thinner films mean material cost savings and more sustainable packaging. The SLX platform meets the PackML programming standard and delivers seamless communication and integration with up-stream and down-stream equipment. This results in faster start up, closely integrated operation with other machines on the line, and expedient troubleshooting.
The Lanzara for application up to 400 CPM
The Lanzara, a servo-controlled, mandrel-style applicator, delivers the highest output at the most sensible price of any applicator in the industry at speeds up to 400 CPM. With the Axon Smart Speed Control feature, Lanzara automatically increases or decreases the sleeving rate, matching upstream and downstream line speed without operator involvement for 'set it and forget it operation. Smart Speed Control ensures optimum throughput, uptime, and quality. With a new Smart Cutting System, Axon has dramatically improved its film cutting technology, reducing the number of blade changeovers required by 66 percent when compared to the previous generation.
The EZ-150SL and ThermoFlow shrink tunnel for applications up to 150 CPM
In combination with Axons ThermoFlow shrink tunnel, the EZ-150SL, with its mandrel-style film delivery system easily handles sleeving operations at speeds up to 150 CPM and is ideal for craft beer production environments, or short-run operations for seasonal or specialty events. The ThermoFlow is a compact, shrink sleeve steam tunnel that couples seamlessly with the EZ-150SL. The ThermoFlow features a self-contained 15-PSI low pressure steam generator and condensate collection system, a unique design that eliminates the need to invest in expensive high-pressure boilers and minimizes energy consumption. Its mobile design allows the ThermoFlow to be easily be rolled into a corner when not in use.
The EZ-100 applicator for up to 70 CPM
The EZ-100 has become the standard for easy, flexible, and economical shrink sleeve label and tamper evident band applications at low to moderate speeds. The EZ-100, the flagship of Axons EZ-Series product line, features an electro-pneumatic film control system that enables rapid changeover to different container sizes without expensive or time-consuming tooling changes.
Be sure to stop by the Axon Booth # C-2820 for this one-stop shop experience. For more information about this innovative shrink sleeve, tamper-evident, and stretch-sleeving equipment, call 800-598-8601 and visit http://www.AxonCorp.com.
About Axon
Axon is a leading manufacturer of fully automated, heat-shrink labeling, tamper-evident banding, and stretch-sleeving equipment. With more than 30 years experience delivering products and solutions that are affordable, reliable, versatile, and easy to use, Axon sets the standard for technology development and customer value within the industries it serves. Visit Axon at http://www.AxonCorp.com.
About Pro Mach
Pro Mach is a leading provider of integrated packaging and processing products and solutions for food, beverage, consumer goods, pharmaceutical, and other diverse companies. Through multiple brands, Pro Mach provides product packaging and processing equipment, PMMI certified trainers, installation, parts, and service in Bottling & Capping, Primary Packaging, Pharmaceutical Packaging, Flexible Packaging, Material Handling, Labeling & Coding, and End of Line, as well as Integrated Solutions for complete packaging lines.
Pro Mach has a diverse customer base, from Fortune 500 companies to smaller, privately held businesses worldwide, which depend on reliable, flexible, technologically advanced equipment and integrated solutions. Pro Mach is headquartered near Cincinnati, Ohio, with manufacturing facilities and offices throughout the United States, Canada, Mexico, Europe, United Arab Emirates, and China. For more information about Pro Mach, please visit http://www.ProMachInc.com.
Featured Product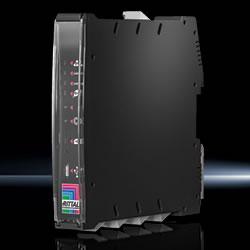 Download the Rittal Fact Book, we'll show you side-by-side product comparisons of Rittal and competitive products, and let you decide. You are an innovator. Your mind runs with "What if?" and the status quo can always be improved. When you find a supplier like Rittal who is forward thinking, you know you've found a partner. A supplier known worldwide for equipment that incorporates cutting edge technology, designed for efficiency, and solves problems other engineers hadn't even considered yet. A company that lives the Industry 4.0 world and puts it into practice in every step of the process.