METTLER TOLEDO will showcase drum filling systems and industrial weighing solutions at the Continent's Premier Packaging Event PACK EXPO Las Vegas, September 25-27, 2017.
PACK EXPO will take place September 25-27 at the Las Vegas Convention Center in Las Vegas, NV. More than 2,000 top-tier suppliers of advanced packaging equipment, materials, containers, automation technologies and other supply chain innovators will exhibit at PACK EXPO Las Vegas. As an exhibitor, METTLER TOLEDO will present drum filling systems and industrial weighing solutions.

Filling systems enable accurate control and measurement of liquid materials in an industrial environment. Whether automatic, semi-automatic or manual, the system is designed to provide an increased level of automation during the filling process. METTLER TOLEDO drum fillers provide efficient, precise, and repeatable results.
Industrial weighing solutions include the ACT350 Weight Transmitter and the SWB805 MultiMount™. The ACT350 is specifically designed for fast, accurate weight measurements from analog load cells, weigh modules, bench and floor platforms to PLCs via most common fieldbus networks, including EtherNet IP, Profinet® IO and Profibus® DP. The ACT350 provides an exceptional 600 Hertz fully filtered update rate to a PLC, making it an ideal choice for fast filling and sorting applications. The small DIN-rail housing saves valuable cabinet space, while keys and display also allow setup and control at the unit.
The SWB805 is a fully approved hygienic weigh module for food, pharmaceutical, and other applications where adherence to the most stringent hygienic standards are required. It is designed in accordance with EHEDG guidelines and the entire module is NSF approved. The design is optimized for avoiding contamination and meets compliance in harsh environments. All surfaces are self-draining for fast drying after wash-down. Mirror polished surfaces on the module hardware and load cell as well as avoidance of metal-to-metal contact on all points of the weigh module help prevent the entrapment and growth of bacteria. The SWB805 can even be equipped with an optional stabilizer insert for scales subject to high shear or heavy vibration without affecting hygienic functions or certification.
Make sure to stop by METTLER TOLEDO's booth C1814 for a hands-on demonstration of the following products and solutions:
Drum Filling
ACT350 Weigh Transmitter
SWB805 MultiMount
Learn more about our attendance at PACK EXPO Las Vegas.
About METTLER TOLEDO
METTLER TOLEDO is a leading global supplier of precision instruments and is the worlds largest manufacturer and marketer of weighing instruments for use in laboratory, industrial, and food retailing applications. METTLER TOLEDO provides weighing solutions that help customers by automating processes, increasing yields, controlling product quality and complying with industry standards and regulations. Additional information about METTLER TOLEDO can be found at http://www.mt.com/industrial.
Featured Product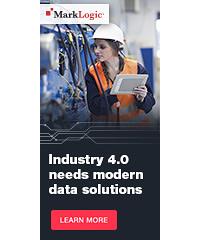 Use Data to Deliver Efficiency, Reduce Risk, and Create Better Products. Disruptive technologies and market changes are transforming the manufacturing industry, requiring a new focus on optimizing use of data and information. It all adds up to a new industrial revolution called Industry 4.0. Organizations who want to realize the potential of this revolution need to "Industrialize their data," making it a core asset to deliver better products and customer service, navigate complex business environments, and transform for the future. MarkLogic customers are delivering on this vision for data with a proven architectural pattern called the Operational Data Hub that simplifies the integration of data along the digital thread to power operational and analytic use cases across the enterprise.