Aventics Corporation will be in booth S-5903 in the South Lower Hall at PACK EXPO in Las Vegas
Aventics will be participating in PACK EXPO in Las Vegas on September 25-27.

Aventics will display the latest in pneumatics solutions in Las Vegas to serve the food, beverage and packaging industry. Areas of focus will be Industry 4.0 (IoT) along with hygienic design and washdown capabilities. Aventics will show its capabilities in the wet area for primary packaging and processing, plus products for secondary applications. Products include pneumatic valves, cylinders and air preparation units capable of withstanding the harsh environments these machines are subjected to when cleaned, plus products to support IoT and normal environments.
An interactive demonstration on IoT solutions will illustrate practical industry examples of how to use IoT to achieve predictive performance-based maintenance to provide a pneumatic system with 100 percent uptime. The demonstration will detect and solve common errors such as: decrease in throughput; mishandling of an object; low system pressure; and extensive shock wear. By using the Aventics Smart Pneumatics Monitor, data from sensors can be analyzed and turned into information. It can then be viewed locally via web server, uploaded to the cloud, or sent to any part of the enterprise network. Attendees can visit the Aventics booth and experience the interactive display on their mobile devices.
Other booth demonstrations include I/O link, high-pressure wash-down CL03 valves with IP69K positioning, electro-mechanical actuator, machine safety, food and beverage platform products, ES05 valves, AV valves, electro-pneumatic positioning system, products for PET blow-molding applications and more.
For more information about Aventics visit www.aventics.com/us.
About Aventics
Aventics is one of the world's leading manufacturers of pneumatic components, systems, and customer-specific applications. The pneumatic engineering company provides products and services for industrial automation, additionally focusing on the sectors of commercial vehicles, food and beverage, railway technology, life sciences, energy, and marine technology. By integrating electronics, the use of innovative materials and prioritizing trends such as machine safety and the Internet of Things, Aventics is a pioneer in intelligent and easy-to-use solutions.
With over 150 years of expertise in pneumatics, Aventics employs around 2,000 associates worldwide. In addition to production sites in Germany (Laatzen), France (Bonneville), Hungary (Eger), USA (Lexington), and China (Changzhou), Aventics is represented in more than 90 countries through direct sales and dealers. The Aventics Group has received multiple certifications, including ISO 9001 and ISO/TS 16949 for quality, ISO 50001 for energy management, and ISO 14001 for environmental management. Further information is available at www.aventics.com/us.
Featured Product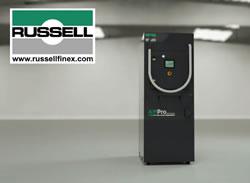 The Russell AMPro Sieve Station™ guarantees the quality of your additive manufacturing (AM) powder, and has been designed to provide optimum sieving efficiency, ensuring your powder is ready for use or reuse as and when you require it. With a simple one-button operation and mobile design, this automated check screener ensures your powder at every stage of the process is qualified for use quickly and safely. The flexibility of the Russell AMPro Sieve Station™ means you can use the system for numerous powder handling tasks - being a modular design ensures the machine can be configured to meet your exact requirements.