CRIQ will showcase Canada's first cyber-physical factory at the Montreal Manufacturing Technology Show
Centre de recherche industrielle du Québec (CRIQ) will exhibit the main components of its cyber-physical factory—acquired from Festo Didactic with the support of Festo Canada—at the Montréal Manufacturing Technology Show (MMTS) this May 14 to 16.
The first cyber-physical factory of its type in Canada, this futuristic training facility comprises state-of-the-art production technologies and interconnected systems. This installation introduces companies to key concepts underlying Industry 4.0 and explains the significant benefits that can accrue from its technologies. Participants will learn how Industry 4.0 projects operate and will be able to prototype their own digital projects before scaling them up for actual production.
The CRIQ cyber-physical factory will be located in the very heart of the MMTS Zone. In this zone, devoted to education and networking, experts will offer workshops and there will be ample opportunity to meet with Réseau Québec 3-D partners.
"The cyber-physical factory at MMTS affords companies in the advanced manufacturing sector a unique opportunity to access the potential of Industry 4.0. Our goal is to have innovative manufacturers benefit from using our lab. We invite all companies to come and discover this bona fide training factory at MMTS," remarked Denis Hardy, CRIQ President and CEO.
Julie Pike, Director, Canadian Events at SME added that "SME is thrilled to be partnering with CRIQ at our upcoming MMTS event. Their cyber-physical factory on display in the MMTS Zone will give Quebec's manufacturing leaders and professionals the opportunity learn more about Industry 4.0 while they see it in action and consider how to leverage these concepts into their operations. This is a must-see highlight of MMTS 2018."
About SME
SME connects all those who are passionate about producing things that improve our world. As a nonprofit organization, SME has served professionals, companies, educators, government, and communities across the manufacturing spectrum for over 80 years. Through its strategic activities (events, media coverage, membership, training and development) and the SME Education Foundation; SME is uniquely dedicated to the advancement of manufacturing by highlighting the knowledge and skills required by industry. For more information, follow SME on Twitter (@SME_MFG), or on Facebook (facebook.com/SMEmfg).
About CRIQ
The mission of Centre de recherche industrielle du Québec (CRIQ) is to make Québec industries more competitive by supporting business innovation. To this end, CRIQ provides companies with the information, expertise and services they need to 1) excel in developing distinctive high-value-added products that address market demands, 2) acquire new technologies and new ways of operating that enhance productivity, 3) improve their standing in the global marketplace, and 4) break new ground in designing products and procedures that are eco-efficient. To achieve its objectives, CRIQ and its 200 employees seek to engage industrial and institutional organizations and create partnerships that provide better innovation services to businesses. www.criq.qc.ca
About Réseau Québec-3D
Launched in October 2014 by an association between CRIQ, the advanced materials innovation research cluster (Prima Quebec) and the consortium for research and innovation in metal processing (CRITM); Québec's 3D printing network (Réseau Québec-3D) is tasked with harnessing the expertise of additive manufacturing stakeholders so that Québec can become a leader in this booming sector. To this end it brings together actors throughout the entire additive manufacturing value chain, including manufacturers in industries interested in this technology, additive manufacturing material suppliers and distributors, and academic and industrial researchers. It has partnered with Canada Makes since 2016 to organize joint knowledge-sharing additive manufacturing activities and to support Québec businesses by funding research and development projects.
Comments (0)
This post does not have any comments. Be the first to leave a comment below.
---
Post A Comment
You must be logged in before you can post a comment. Login now.
Featured Product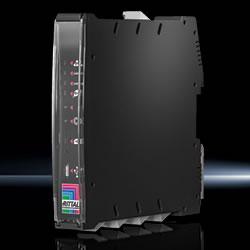 Rittal Blue e+ cooling units are currently the most efficient of their kind on the market. Besides being 75 percent more energy-efficient than previous cooling solutions on average, the units also excel in terms of connectivity, safety and handling.   What's more, their IoT interface enables Blue e+ units to link to customer-owned monitoring, energy management and/or superordinate systems via OPC-UA, Profinet, SNMP, Modbus TCP and CANopen, enabling predictive maintenance, data analytics and more.