NORD has developed a Corporate Social Responsibility plan to lower their carbon footprint and assume responsibility for social, ecological, and economic aspects by 2025.
Since 2021, NORD DRIVESYSTEMS has been diligently addressing sustainability issues with a dedicated cross-departmental team actively supported by shareholders and management alike. Their Corporate Social Responsibility plan combines economic, profit-oriented development, and environmental protection into one common goal rather than thinking of them as separate initiatives. The plan is driven by NORD's responsibility to society, their customers, and their employees.

"Our sustainability strategy for 2025 is a promise to ourselves, to our customers, and to the public, to consequently behave in an ecological, economic, and responsible manner. Therefore, our innovations are not only making our products and ways of working better and better, but also more and more sustainable," says Carolin von Rönne, Controller of Subsidiaries at NORD DRIVESYSTEMS global headquarters in Germany.
NORD is committed to acting with integrity and responsibility for the environment through five main fields of action:
Governance & Processes
NORD's sustainability management team was introduced in 2022 and has already reached important milestones such as successfully implementing a certified environmental management system in Germany and publishing the first sustainability report for their global headquarters in Bargteheide. This team focuses on implementing structures and processes for the entire NORD DRIVESYSTEMS Group and plays an important role in ensuring the other fields of action are successful. In the coming years, NORD will strive towards the goal of creating international sustainability reports that integrate key figures from all subsidiaries, appointing sustainability officers worldwide to regularly exchange information, and implementing NORD environmental management standards at their 10 largest subsidiaries.
People
The NORD DRIVESYSTEMS Group has nearly 5,000 employees worldwide and works with countless more throughout the supply chain. As such, it is important to the company for its employees to act with respect, inclusion, and sustainability. By 2025, NORD aims to make sure all employees are fully informed about CSR activities and receive regular training. They additionally expect to launch a digital Learning Management System (LMS) by 2024 for individual learning opportunities and are preparing to appoint a key figure who will promote diversity throughout the company.
Environment
As a manufacturing company, NORD has an impact on global resource consumption and greenhouse gas emissions. With the goal of reducing their CO2 footprint, they are currently developing an international climate strategy to reduce energy consumption during operations, increasing the use of renewable energies, and reducing the amount of waste each subsidiary produces. Other focal points include increasing the amount of self-produced electric power, expanding biodiversity, and enabling preventative protection against water-polluting substances. NORD's global headquarters in Bargteheide, Germany has already enacted an environmental program that will soon be enrolled to the rest of the world.
Products
NORD products can be found in more than 100 industries across the globe. As many systems consume a significant amount of energy, NORD has begun integrating more sustainable, energy-efficient solutions into their product development process. One such example is their IE5+ permanent magnet synchronous motors. These motors not only operate with high efficiency, saving energy and CO2 emissions, but also require a relatively small number of critical metals to manufacture - further minimizing the environmental impact. Future plans for the NORD product line include increasing the sales quota for energy-efficient solutions, calculating a product carbon footprint for a product series by 2025, and significantly increasing the usage of high-efficiency products within the industries they serve.
In addition to developing more energy efficient products, NORD has also developed the NORD ECO Service to measure energy consumption of systems or individual drives. The ECO BOX is installed between the drive and power supply and provides detailed data for extensive analysis that allows for the identification of patterns, anomalies, and potential savings. Overall, the NORD ECO BOX helps to find the most efficient drive solution for the application to streamline production while reducing energy consumption, CO2 emissions, and operation costs.
Another recent addition to NORD's portfolio is their Condition Monitoring for Predictive Maintenance solution. In Condition Monitoring, operating and status data are recorded regularly or permanently to optimize the efficiency and operational safety of machines and systems. Important information for Predictive Maintenance can be derived from the data analysis with a goal to proactively maintain the machines and systems, reduce downtimes, and increase overall system effectiveness.
NORD has also developed their LogiDrive Complete Drive Solutions to maximize efficiency and overall savings potential. LogiDrive offers cost-effective, standardized designs including a gear unit, IE3/IE4/IE5+ high-efficiency motor, and variable frequency drive (VFD). The systems provide flexibility and maintain efficient operation at partial load and low speeds, making them an ideal solution for a wide range of automation applications. LogiDrive systems are also designed to reduce system variants and provide reliable use throughout the product service life. These factors combined help to significantly reduce energy consumption and ultimately the Total Cost of Ownership.
Supply Chain
NORD has suppliers for raw material and components all over the world and holds them to the same standards of respect for human rights and sustainability. While the German Supply Chain Act (LKSG) will not become mandatory until January 1, 2024, NORD has been conforming to the law since January 1, 2023. The act regulates corporate responsibility for human rights compliance in supply chains and requires risk analysis to be carried out, documented, and reported accordingly. They are constantly monitoring legal requirements, identifying risks, and minimizing them through efficient processes. In addition, NORD also is working towards determining the greenhouse gas emissions of 80% of their parts acquired through the supply chain by 2025 and advancing sustainable material compliance in the company with defined teams and responsibilities.
As a globally active company, NORD is dedicated to creating a more sustainable future for society, their customers, employees, and sales partners worldwide. They are committed to working diligently and adding additional aspirations as current goals are achieved. Visit their website at www.nord.com to learn more about their initiatives.
Featured Product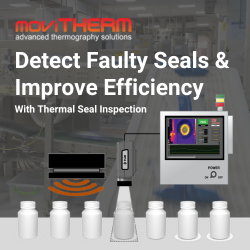 MoviTHERM's Thermal Seal Inspection (TSI) solution provides precise and reliable detection of defects in a variety of packaging types, including pouches, bags, blister packs, bottle caps, and more. By detecting defects in your packages, the TSI solution helps increase efficiency in your production line and ensures top-quality packaging is delivered to your customers every time. With state-of-the-art technology and an experienced team, MoviTHERM is dedicated to delivering accurate inspection solutions and peace of mind to its clients. Contact MoviTHERM today to learn more about their thermal seal inspection solution.