NORD's specialized solutions for the bakery industry include hygienic, wash-down housings, wall or motor mounted variable frequency drives for dynamic control, and robust gear motors for reliable operation of mixers, conveyors, labeling machines, and more.
The bakery industry includes many complex processes from mixing and kneading large quantities of dough, heating and cooling baked goods, and packaging and labeling the final product. NORD DRIVESYSTEMS supports the industry every step of the way with reliable drive systems engineered for high efficiency and smooth operation. Specialized configurations cater to all requirements of the bakery industry and include options such as special lubricants for low and high temperatures, protection class IP66 or IP69K, stainless steel shafts and accessories, metal fan blades and fan-less designs, explosion protected motors, and more.

To prevent material destruction by cleaning agents and disinfectants, NORD developed the nsd tupH™ Sealed Surface Conversion System. This innovative solution permanently penetrates the surface of the aluminum housing to create a surface that is seven times harder than the original and is highly resistant to corrosion, acids, and alkalis, and unlike paint, will not flake or blister. The treatment not only provides a smooth, easy-to-clean surface, it also maintains the low weight of the aluminum, keeping the load on the automated system minimal and operation costs low. From dough processing machines to primary packaging systems, nsd tupH complies with FDA Title 21 DCFR 175.300 and is the ideal solution for hygienic, wash-down environments.
NORD smooth body motors include the HM and HMT series for applications where sanitation and cleanliness are essential. The HM series is engineered with a high-strength aluminum alloy housing and can be supplied with a variety of protective coatings and finishes. The HMT series is treated with NORD's nsd tupH Sealed Surface Conversion System and available as an integral gear motor with a wide range of gear units. Various motor options include thermal overload protection, space heaters, potted terminal boxes, condensation drain holes, and more.
Thanks to their robust one-piece housings, NORD UNICASE™ helical bevel gear units require little maintenance and deliver long service life with reduced downtimes for machines like mixers, agitators, and dough kneaders where near continuous operation is vital to ensure premium quality of the product. Reinforced bearings support large axial and radial loads with minimum backlash and an optimized sealing system provides leak-free protection. These units are also available in a dual-gear agitator design with counter rotating shafts for scraping the outer reaches of the tank while simultaneously mixing the center.
UNICASE helical worm gear units are made from a single cast-iron housing and provide excellent load-bearing capacity, long operating life, and quiet operation for bakery systems that do not require a caustic wash-down solution. They have high quality gearing that includes synthetic lubricant - resulting in efficiency up to 92% and further increasing service life. These drives additionally offer a high degree of flexibility with a performance range of 0.16 - 20 hp, versatile mounting options to accommodate limited installation space, and application-specific versions.
UNIVERSAL SMI worm gear units are often used in conveyor systems in the food and beverage industry due to their quiet operation, flexibility, and high-power density in a compact housing. Their smooth surface housing is easy to clean and when combined with an integral smooth body motor and treated with nsd tupH, they deliver a hygienic, wash-down solution.
Variable frequency drives play an important role in systems such as dough sheeting, cutting, and labeling where precise positioning and constant speed are required. NORD offers cabinet and decentralized solutions with full PLC functionality to intelligently control drive systems. NORDAC PRO SK 500P VFDs are a compact control cabinet solution with tiered functionality over five case sizes. Multiple interfaces are available and include an integrated multi-protocol Ethernet interface, a Bluetooth interface for easy connectivity, and a USB interface for voltage-free parameterization.
For a decentralized solution, NORDAC FLEX VFDs are available. These drives are NORD's most flexible VFDs with fully scalable functions customizable to specific application needs, wall or motor mounting, and easy parameter transfer via EEPROM memory.
Conveyors are used throughout the baking process to carry product from one system to another, making them an important part of the industry. NORD's IE5+ high-efficiency portfolio is specially engineered to optimize horizontal conveyor operation over a wide torque range. IE5+ permanent magnet synchronous motors provide performance up to 5 hp and include a ventilated design (TEFC) for maximum heat dissipation and a smooth surface design (TENV) for easy cleaning. Also included in the portfolio is the DuoDrive integrated unit - a combined smooth surface IE5+ motor and single-stage helical gear unit in one compact housing for a complete, hygienic wash-down drive solution. With its simple plug-and-play commissioning, optimized system efficiency, and high-power density, DuoDrive achieves a significant reduction in Total Cost of Ownership (TCO). Additionally, NORDAC ON/ON+ variable frequency drives can be wall or motor mounted and feature a flexible multi-protocol Ethernet interface for dynamic control of conveyor systems.
Learn more about NORD's solutions for the Bakery Industry by visiting www.nord.com.
Featured Product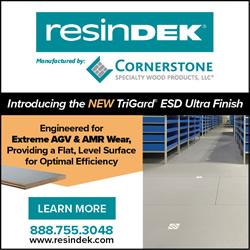 To maximize the productivity of an autonomous mobile robot (AMR) or automatic guided vehicle (AGV) deployment, it's critical to create the optimal environment that allows the vehicles to perform at their peak. For that reason, Cornerstone Specialty Wood Products, LLC® (www.resindek.com) created the TriGard® ESD Ultra finish for its ResinDek® engineered flooring panels. The TriGard ESD Ultra finish is ideal for high-traffic robotic applications characterized by highly repetitive movement patterns and defined travel paths.