Engineered for digital connectivity applications with massive data demands, these revolutionary fans deliver the performance of a counter-rotating fan — and up to 50% better air performance than the best single-stage compact axial fans on the market — with significant power efficiency improvements and 6–12dB(A) less noise.
FORT WORTH, Texas, September 13, 2023 - RS, a trading brand of RS Group plc (LSE: RS1), a global provider of industrial product and service solutions, is stocking the revolutionary new DiaForce 120mm diagonal compact fans from ebm-papst. The new DiaForce fans feature an innovative design that combines the high airflow volume of an axial fan with the high static pressure capabilities of a centrifugal fan. This inventive combination delivers the high performance of counter-rotating axial fans with less noise and significant power efficiency improvements to satisfy the challenging cooling demands of evolving digital connectivity applications.

Developed to meet the ambitious specifications of a well-known electronics giant looking to cool its next-generation AI servers, ebm-papst's new DiaForce fans deliver up to 50% more air performance than the best single-stage compact axial fans currently on the market while generating 6-12dB(A) less noise. They also offer a significant reduction in power, less mechanical vibration, and a smaller and lower-profile footprint.
DiaForce diagonal compact fans feature an aerodynamically optimized design with unique impeller, housing, and inlet nozzle geometries; a larger outlet than intake opening with optimized guide vanes for higher pressure increase; a conical cover plate that rotates with the impeller; and a high-efficiency, state-of-the-art GreenTech DC motor. Air flows through the fans in both an axial and radial direction. Combining the key benefits of each design generates a higher static pressure than standard axial fans can provide while maintaining the quick and easy-to-install axial form. The DiaForce blade tips pass directly into the cover plate which eliminates tip gap and alleviates turbulence in the gap area (where there's a considerable pressure gradient), resulting in significant noise reductions that deliver the quietest performance of any fan with this power density.
Thanks to this unique design and the outstanding performance it enables, DiaForce fans can replace the larger, noisier, less efficient, and less integration-friendly counter-rotating fans commonly used to cool densely packed electronics in chassis. They can also create redundancies not possible with conventional single-stage fans that have to operate at their power limit to deliver adequate cooling and provide future-proof solutions for servers that manage massive amounts of data. Ideal applications include server, base station, mass storage, and cabinet cooling as well as autonomous and AI technologies and 5G and IoT networks.
The new DiaForce diagonal compact fans from ebm-papst are currently available in a 120mm footprint that measures 119 x 119 x 86mm (L x W x H), moves airflow volumes of 680m3/h or 400cfm, consumes 395W of power, exhibits 48% overall efficiency, and has a nominal voltage of 48VDC with a range of 36-60VDC, a nominal speed of 17,200rpm, and operating temperatures extending from -20°C to +70°C (-4°F to +158°F). However, this is just the first of multiple DiaForce fan releases; 40mm, 60mm, and 80mm models are in active development and expected to be released to market in the coming year.
Additional features of DiaForce compact diagonal fans include a state-of-the-art motor, advanced integrated and optional functionalities, a convenient form factor, optional diagnostic tools, and compliance with all regulatory standards.
• DiaForce fans have a compact, 500W, three-core GreenTech DC motor engineered to drive substantial energy savings, dynamically balance the impeller, and deliver a long service life. They are also equipped with cooling openings that dissipate heat from the ball bearings to improve thermal management and made without rare earth metals for improved sustainability.
• Integrated functions include locked-rotor protection for improved safety, output signals proportional to motor speed, and speed control capabilities with multi-option control input. Optional functions include go/no-go and speed limit alarms, internal and external temperature sensors, analog control input, and moisture protection.
• The series features a compact form factor with an industry-standard assembly geometry and supports quick and easy installation via four mounting holes on both the inlet and outlet sides.
• The optional FanCheck GreenIntelligence diagnostic tool enables maximum efficiency, intelligent networking capabilities, and numerous monitoring and control functions while also calculating the realistic service life of the fan based on its operating speed, temperature, and preset environmental parameters. These capabilities support predictive maintenance strategies, reduce equipment downtime and associated costs, extend equipment lifetimes, and deliver clear, competitive advantages for the interconnection and intelligent control of fans, drives, and systems.
• DiaForce fans are also compliant with all regulatory standards including NEBS, OSHA, ANSI, and ETSI.
To learn more about ebm-papst's new DiaForce compact diagonal fans for demanding digital connectivity applications, please click the embedded links, contact your local RS representative at 1.866.433.5722, or reach out to our technical support team.
About ebm-papst
The ebm-papst Group, a family-run company headquartered in Mulfingen, Germany, is the world's leading manufacturer of fans and motors. Since it was founded in 1963, the technological leader has set international industry standards with its core competencies in motor technology, electronics, digitalization, and aerodynamics. ebm-papst offers sustainable, intelligent, and tailor-made solutions for virtually every requirement in ventilation and heating technology.
In the 2022/23 financial year, the Group generated turnover of EUR 2.540 billion. It employs just under 15,000 people at 30 production sites (including in Germany, China, and the U.S.) and in 50 sales offices worldwide. ebm-papst sets the benchmark in almost all sectors, such as ventilation, air conditioning and refrigeration technology, heating technology, information technology, mechanical engineering, intralogistics, and medical technology.
About RS in the Americas
In the Americas region, RS stocks more than 250,000 industrial and electronic products from more than 700 trusted suppliers. These solutions cover categories extending from automation and control equipment to interconnect, passive, active, and electromechanical components and include more than 80,000 high-quality, competitively priced RS PRO products. For more information, please visit https://us.rs-online.com or connect with us via social media on Facebook, Twitter, LinkedIn, and YouTube.
About RS Group
RS Group plc provides product and service solutions that help our customers design, build, maintain, repair, and operate industrial equipment and operations, safely and sustainably. We stock more than 750,000 industrial and electronic products, sourced from over 2,500 leading suppliers, and provide a wide range of product and service solutions to 1.1 million customers.
We support customers across the product lifecycle, whether via innovation and technical support at the design phase, improving time to market and productivity at the build phase, or reducing purchasing costs and optimizing inventory in the maintenance, repair, and operation phase. We offer our customers tailored product and service propositions that are essential for the successful operation of their businesses and help them save time and money.
RS Group plc is listed on the London Stock Exchange with stock ticker RS1 and in the year ended 31 March 2023 reported revenue of £2,982 million.
For more information, please visit https://www.rsgroup.com/ or connect with us on LinkedIn or Twitter.
Featured Product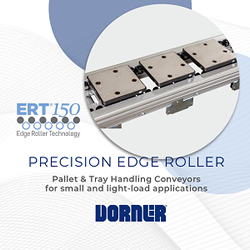 The next evolution in Dorner's Edge Roller Technology conveyor platform, the ERT®150, is ideal for small and light-load assembly automation, as well as medical and medical-device assembly application. The ERT platform is the only pallet conveyor of its kind available with an ISO Standard Class 4 rating for cleanroom applications. Earning the ISO Standard 14644-1 Class 4 rating means Dorner's ERT150 will conform and not contribute to the contamination of cleanrooms to those standards. As implied by its name, the ERT150 (Edge Roller Technology) uses rollers to move pallets through the conveyor smoothly with no friction (a byproduct often seen in belt-driven platforms). The conveyor's open design eliminates concerns of small parts or screws dropping into rollers and causing conveyor damage or jamming. The ERT150 is suited to operate in cleanroom environments requiring a pallet handling conveyor. It is capable of zoning for no or low-back pressure accumulation and is ideal for automation assembly applications within industries including medical devices, electronics, consumer goods among others.