• Latest Eaton investments support surging customer demand for energy transition and electrification projects • In El Paso, Texas, Eaton to add 600 jobs, open new manufacturing facility and increase production capacity at existing manufacturing site
CLEVELAND - Intelligent power management company Eaton (NYSE:ETN) announced the investment of an additional $150 million to increase the supply of its electrical power distribution solutions for customers across North America. As part this investment, Eaton is committing $80 million to significantly expand its manufacturing footprint in El Paso, Texas—creating more than 600 new skilled manufacturing jobs, opening a new facility and increasing capacity at its existing manufacturing plant.

These latest Eaton investments in North American manufacturing are in addition to the company's recently announced $500 million to support electrification, energy transition and digitalization across industries.
"Eaton solutions are at the heart of electrical systems everywhere and are vital to accelerate complex infrastructure projects for buildings, healthcare facilities, data centers, industrial facilities and utilities," said Mike Yelton, president, Americas Region, Electrical Sector at Eaton. "The latest investment in regional manufacturing reflects our commitment to respond rapidly to unprecedented customer demand and the tremendous abilities of our longtime employees and channel partners."
The new regional expansion will enable Eaton to increase production of its circuit breakers, switchboards, panelboards and other assemblies that enable power distribution for critical infrastructure across industries. In addition to El Paso investments, the company will expand capacity at its existing facilities in Beaver, Pennsylvania; Juarez, Mexico; Arecibo, Puerto Rico; and Haina, Dominican Republic.
Eaton is an intelligent power management company dedicated to improving the quality of life and protecting the environment for people everywhere. We are guided by our commitment to do business right, to operate sustainably and to help our customers manage power ─ today and well into the future. By capitalizing on the global growth trends of electrification and digitalization, we're accelerating the planet's transition to renewable energy, helping to solve the world's most urgent power management challenges, and doing what's best for our stakeholders and all of society.
Founded in 1911, Eaton is marking its 100th anniversary of being listed on the New York Stock Exchange. We reported revenues of $20.8 billion in 2022 and serve customers in more than 170 countries. For more information, visit Eaton.com. Follow us on LinkedIn.
Featured Product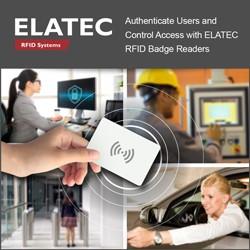 With a tap of the badge, RFID readers from ELATEC provide secure, reliable and easy-to-use user authentication, access control and usage tracking of hardware and software in industrial automation processes. Reader durability in harsh plant floor environments is another essential feature. Choose the right authentication and access control solution and extend RFID card-based capability for the access control of PLC, robot and HMI automation controller software and devices requiring special operator training.