Demonstrations covering multiple Bosch Rexroth automation technologies will be featured at PACK EXPO 2023, including conveyance, transport, and robotics.
Bosch Rexroth will display product technologies and complete factory automation solutions for CPG manufacturing in Booth S-5964 at PACK EXPO 2023, September 11-13, in Las Vegas, Nevada.

Featured will be a ctrlX AUTOMATION-powered, multi-tech demo that consists of a VarioFlow plus conveyor system that delivers high accuracy with unprecedented speed, combined with a Kassow collaborative robot.
Attendees are encouraged to check out the Innovation Stage Presentation on Harmonizing Factory Automation and Digitalization by Sean Spees, Market Segment Manager for CPG. Spees will demonstrate how manufacturers can now benefit from intelligent systems that can automate everything from material handling to data retrieval and integration. Make sure to stop by Innovation Stage 3 (C-2058) on September 11th, from 2:00 pm - 2:30 pm to learn more!
ctrlX AUTOMATION: This unique, four-sided demo illustrates the modularity and scalability of ctrlX AUTOMATION while presenting an overview of ctrlX DRIVE and ctrlX CORE hardware capabilities. On display is a three-axis ctrlX DRIVE linked to a ctrlX CORE industrial PC running in real-time. Other components, such as ctrlX IO, ctrlX HMI and the MS2N synchronous motor, are also included. In addition, the exhibit demonstrates how ctrlX CORE supports modern languages for today's industrial machinery, such as Java, Python and Node Red, plus many other application-appropriate languages.
VarioFlow plus: The modular VarioFlow plus plastic chain conveyor is a high-performance, versatile plastic chain conveyor system with components that are easy to assemble in both horizontal and vertical configurations. This capability allows manufacturers to set up systems that accommodate compact facility footprints, as well as serve as buffer storage. Suitable for CPG and other applications, the chain surface is nearly closed, allowing even the smallest of parts to be transported safely and reliably.
Linear Technology Kiosks: At the booth, Bosch Rexroth will showcase its range of Linear Technology products, encompassing ball rails, bushings, ball screws, and an array of other linear components. Visitors will have the opportunity to delve into the practical applications of compact modules and actuators, learning directly from our knowledgeable experts. Stop by our booth to learn the latest advancements in Linear Technology and gain valuable insights into its diverse use cases.
For more information, visit https://boschrexroth-us.com/packexpo.
About Bosch Rexroth: As one of the world's leading suppliers of drive and control technologies, Bosch Rexroth ensures efficient, powerful and safe movement in machines and systems of any size. The company bundles global application experience in the market segments of Mobile and Industrial Applications as well as Factory Automation. With its intelligent components, customized system solutions, engineering and services, Bosch Rexroth is creating the necessary environment for fully connected applications. Bosch Rexroth offers its customers hydraulics, electric drive and control technology, gear technology and linear motion and assembly technology, including software and interfaces to the Internet of Things. With locations in over 80 countries, more than 32,000 associates generated sales revenue of around 7.0 billion euros in 2022.
Featured Product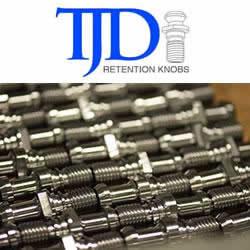 Our retention knobs are manufactured above international standards or to machine builder specifications. Retention knobs are manufactured utilizing AMS-6274/AISI-8620 alloy steel drawn in the United States. Threads are single-pointed on our lathes while manufacturing all other retention knob features to ensure high concentricity. Our process ensures that our threads are balanced (lead in/lead out at 180 degrees.) Each retention knob is carburized (hardened) to 58-62HRC, and case depth is .020-.030. Core hardness 40HRC. Each retention knob is coated utilizing a hot black oxide coating to military specifications. Our retention knobs are 100% covered in black oxide to prevent rust. All retention knob surfaces (not just mating surfaces) have a precision finish of 32 RMA micro or better: ISO grade 6N. Each retention knob is magnetic particle tested and tested at 2.5 times the pulling force of the drawbar. Certifications are maintained for each step in the manufacturing process for traceability.