Innovative system utilizes heat generated from production machinery for climate control and water heating throughout NORD manufacturing facility.
NORD DRIVESYSTEMS continuously looks for opportunities to gain manufacturing efficiencies and implement practices that have less impact on the environment. In 2012, Fertigungstechnik NORD, a member of the NORD DRIVESYSTEMS Group located in Gadebusch, Germany, developed a concept for heat recovery from machine tools in their production areas. To this day, the recovered energy has been used to heat the over 20,000 sq. ft. of the location's production, assembly, and office spaces. The recovered heat is also used to produce hot water within the facility, rather than using traditional water heating methods that are less environmentally friendly. NORD is constantly improving and expanding the system to become less dependent on fossil fuels.

Many components for NORD drive solutions are produced in the Gadebusch facility, including housings, shafts, and gearing. Prior to 2012, the heat generated by the facility's production machines had been dissipated directly into the surrounding environment via electrically powered cooling systems. In the summer months, this heat dissipation resulted in the five production halls becoming very hot, which lead to the development of the heat recovery concept, which has since operated year-round.
More than 80 machines connected
The Gadebusch heat recovery concept was implemented using plate-type heat exchangers coupled to the machines' various cooling systems with matching consumption capacities. The internal machine circuits are connected to an external circuit, which - being a cooling water circuit - dissipates excess heat and feeds it into a central heat recovery system. Since implementing the system, Fertigungstechnik NORD has connected more than 80 machines, which are networked with the production department and the production hall ventilation. Within the recovery system, two heat pumps generate hot water for heating the facility and the heat is dissipated from the production areas via three cooling devices.
Continuous refinement
Fertigungstechnik NORD has been continually investing in heat recovery initiatives since the system was first put into place. Currently, the production halls' temperatures are held at approximately 82 °F, even at the height of summer. The system operates without additional heating when outdoor temperatures are above of 32 °F. If temperatures drop below 32 degrees, the system can utilize natural gas for heating to ensure a baseline temperature of 66 °F in the production halls and offices. Currently, Fertigungstechnik NORD saves approximately one third of its former consumption of 583,000 kWh of fossil fuel-based energy. This corresponds to a reduced CO2 emission of approximately 117 metric tons. In 2023, the shower water in the facility will be converted over to the heat recovery system, which will further reduce excess heat dissipating to the environment during the summer.
The development, implementation, and further improvements to the Gadebusch heat recovery system is just one of many examples of the NORD Group taking responsibility for their impact on the environment. Resource conservation, cost reduction, and environmental performance are firmly established within the NORD Group and will continue to be expanded upon in the future.
###
About NORD DRIVESYSTEMS® Group
With more than 4,700 employees, NORD DRIVESYSTEMS has been developing, producing, and selling drive technology for over 50 years, and it is a global leader among full-service providers in the industry. In addition to standard drives, NORD delivers application-specific designs and solutions for special requirements, such as energy-saving drives or explosion-protected systems. NORD has subsidiaries and sales partners in 98 countries worldwide. The dense sales and service network guarantees optimal availability, enabling short delivery times, and customer-oriented service. NORD produces a very diverse range of drives for torques from 88 lb-in to more than 2.5 million lb-in, provides motors in the power range of 0.16 - 1,341 hp, and manufactures frequency inverters with the required power electronics of up to 200 hp. Inverter solutions are available for conventional control cabinet installations as well as for decentralized, fully-integrated drive units. Visit nord.com.
Featured Product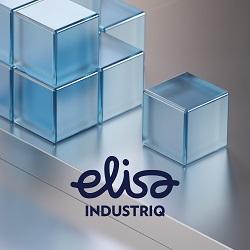 Elisa IndustrIQ's Supply Chain Management (SCM) solution is designed to enhance productivity, efficiency, and effectiveness throughout the entire supply chain. This advanced solution focuses on improving flexibility and responsiveness in both planning and operation execution, crucial for adapting to rapidly evolving markets. Our solution facilitates business growth by offering end-to-end visibility, essential for efficiently managing and streamlining supply chains. Key features include AI-powered demand forecasting, automated quoting and purchasing, intelligent replanning capabilities, structured collaboration tools, and direct supplier integration. These features can be tailored to align with your business and financial objectives, adding a strategic dimension to sales and operations planning and execution. The solution is designed to meet the manufacturing industry's needs for speed, resilience, and efficiency, primarily through innovative approaches to reduce business friction.