NORD's online tools provide customers with a convenient, service-friendly online experience and up-to-the-minute status information.
NORD is pleased to announce new features to the myNORD online customer portal, including additional motor connectivity options, configurable CLINCHER.1 parallel shaft gear units, and updates to the user interface to make the tool even easier to use. The functionality within myNORD has been specifically designed based on feedback from engineers, purchasing agents, sales representatives, aftermarket support, and others who need to quickly configure products, generate quotes with pricing, access order and shipping status, and download unit-specific documentation such as 2D/3D drawings and data sheets from a single platform. Additionally, users can quickly locate and order thousands of parts online using the Spare Parts Shop.

The myNORD portal provides 24/7/365 access to customer information for flexible collaboration with colleagues and NORD support teams. The recent redesign of the website includes a new top navigation bar and quick access panel that enable users to navigate the dashboard more efficiently and jump directly to commonly used pages. Customers can use the configuration tool to select products based on previous serial numbers or by specifying performance and mechanical requirements to identify the ideal NORD drive solution for their application. Comprehensive, integrated product data ensures only valid combinations are shown and helpful tips and images guide the user through the complete configuration process. Once a configuration is complete, registered users can save it as a formal quote with account-specific pricing and download it as a PDF file for easy communication with their customers. Orders can be placed directly from the quote dashboard and include customer purchase order documents.
The addition of new motor connectivity options allows users further flexibility and customization options when selecting their desired products. These selections can be found under the Terminal Box Connection section and include HARTING HAN 10ES, HARTING HAN Q8, and Turck 4-Pin powerfast connectors.
CLINCHER.1 parallel shaft gear boxes now available on myNORD consist of the SK 0182.1, SK 0282.1, SK 1282.1, and SK 1382.1 models. These units are a direct crossover from NORD's legacy CLINCHER NB series and feature compact, standard designs for fast, easy interchange within an existing drive system. All CLINCHER.1 units are built with a strong, lightweight aluminum alloy housing with the SK 1282.1 and SK 1382.1 models also available in cast iron.
With the NORD Spare Parts Shop, customers can easily locate parts via existing part number, catalog search, or serial number lookup. Interactive unit-specific diagrams include a complete bill of material with selectable parts, current availability from all three U.S. plants, pricing, and expected ship dates. Parts breakdowns can also be downloaded as a PDF to send to customers and colleagues or shared via a direct link. Once selected parts are added to the cart, customers can choose which facility the parts will ship from with either standard delivery or next day air via NORD prepaid carriers. Cart inventories can also be downloaded as a PDF to serve as a simple quote document.
This customer portal update is the latest of many past and future changes to help customers streamline their processes and easily manage their quotes and purchases. NORD's eBusiness team is available for virtual trainings and one-on-one or group sessions to familiarize staff with myNORD and get the most out of this powerful online tool. Contact your local sales representative to learn more. www.nord.com
Featured Product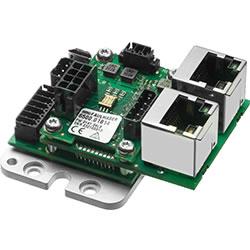 The FAULHABER Linear Actuator L series are designed to provide high performances in compact dimensions, these actuators can support large input speed, high output force and are suited for a wide range of applications like robotics, industrial machines and laboratory equipment.