-With ISO 13485 certification, the Xometry marketplace broadens medical device production -Xometry currently works with 86 percent of Fortune 500 medical product and equipment companies
Xometry, the digital marketplace for manufacturing, today announced it has obtained ISO 13485 certification, enabling the company to expand the breadth of medical device manufacturing on the Xometry marketplace.

The certification significantly broadens Xometry's already large footprint in the medical industry. Xometry currently works with 86 percent of Fortune 500 medical product and equipment companies, providing prototyping and manufacturing support.
The Xometry marketplace helps companies across all industries develop and deliver next-generation products that are fueling tomorrow's economy.
For more information about Xometry's ISO 13485 and other certifications, please visit the company's certifications page.
About Xometry
Xometry (NASDAQ:XMTR) powers the industries of today and tomorrow by connecting the people with the big ideas to the manufacturers who can bring them to life. Xometry's digital marketplace makes it easy for buyers at Fortune 1000 companies to access global manufacturing capacity, while giving suppliers the critical resources they need to grow their business. Xometry is home to Thomas, a leader in product sourcing, supplier selection and marketing solutions for industry, and the popular Thomasnet.com platform.
Featured Product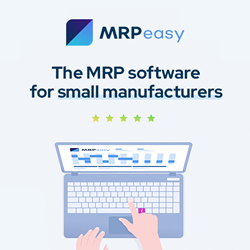 Always know what you have in stock and what you'll need to fulfill orders. Never forget to order parts on time or fail to notice a late delivery from your vendor. Easily create manufacturing orders and schedule them automatically according to resource availability or delivery deadline. Generate accurate cost and lead time estimates and provide customers with quick quotes. Receive notifications when orders are late or inventory levels reach a critical point. Ensure seamless communication between sales, production, warehousing, procurement, administration, and finance. Integrate with popular accounting, CRM, and e-commerce apps. MRPeasy is an ERP software for small manufacturers that gives you all that and more. Our users report a 54% average improvement in the overall performance of their business and a 42% increase in on-time deliveries. Try for free, no credit card needed.