Company set to feature their modular lines of gear units, industrial gear units, electric motors, and controls in Kansas City, Missouri, March 26th - 29th, 2022.
NORD keeps the Grain industry moving with safe, reliable solutions that power bucket elevators, drag conveyors, screw conveyors, feeders, slide gates, and other grain applications without fail. All NORD drive solutions are designed to be robust, versatile, and maximize efficiency to accommodate a wide range of applications. With nearly 20,000,000 unique configurations available from their standard offering of gearboxes, motors, and electronic controls, NORD can deliver complete drive solutions from a single source. Attendees of GEAPS Exchange will be able to explore these solutions firsthand and talk directly with NORD experts to find a solution tailored to their needs.

These specialized solutions will be on display at NORD Booth 2617:
MAXXDRIVE® Industrial Gear Units
MAXXDRIVE Industrial Gear Units were designed to fit the needs of heavy-duty applications such as bucket elevators, agitators, and drag conveyors. They are made from one-piece UNICASE housings to ensure high load capacity, long service life, and quiet operation. MAXXDRIVES are configurable with a variety of sealing options, bearings, and cooling and heating options so they can be easily adapted to a wide range of ambient conditions. These durable units are available in parallel shaft, right-angle, and MAXXDRIVE XT right-angle housing designs. The XT right-angle gearboxes provide the grain industry with a symmetrical design for mirror image installations, optimized thermal ratings, and effective fan cooling. MAXXDRIVE industrial gear units also have the option of adding NORD's Grain Endurance Package. This package consists of several protective measures to ensure a long operation life including a drying agent filter, an oil sampling port, a quick fit filter trolley connection, oil inspection glass, and oil drain cock.
Key advantages:
-Extensive input options and mounting designs
-Modular, flexible design configured precisely for your application
- Robust, one-piece housing
-Effective cooling systems extend the life of lubricants
-High torque capacity
90.1 Helical Bevel Units
Helical bevel gearmotors are made from one-piece UNICASE housings and provide reliable operation, low maintenance, and long service life. These versatile units offer exceptional flexibility with 11 different case sizes, a wide performance range, and various mounting and shaft options to choose from. The 90.1 helical bevel gearboxes also feature infinite life gearing, high axial and radial load capacity, minimum backlash, and heavy-duty bearings.
Key advantages:
-Foot, flange, or shaft mounted
-Hollow or solid shaft, keyless bore options (shrink disc and GRIPMAXX™)
-Various bearing designs for high axial and radial load capabilities
-Long service life, low maintenance
Electric Motors
NORD's portfolio of electric motors include both synchronous and asynchronous motors that adhere to international energy guidelines and certifications and range from standard IE1 efficiency up to IE4. They are designed with a focus on operational safety and can perform smoothly even in the harsh environments of many grain applications. All NORD motors are part of the modular product system that combines gearboxes, motors, and variable frequency drives for optimum performance, reliability, and versatility.
NORD electric motors are highly configurable with options including:
-Brakes
-Encoders
-Environmental protection features
-External cooling fans
-Thermal protection
-Connectivity solutions
-Explosion protection for gas and dust (Class I, Division 2 and Class II, Division 2)
Screw Conveyor Package
NORD's Screw Conveyor Package is a cost-effective alternative to traditional screw conveyor drives available for both helical bevel and CLINCHERTM gear units. This compact design reduces the number of parts, saves on installation space, and eliminates the need for top motor mounts, pulleys, belts, or guards. The Screw Conveyor Package provides easy system maintenance and increased reliability by combining closely stepped ratios with a directly coupled gearmotor or NEMA C-face input. The CEMA flange and shaft assembly is a design unique to NORD and combines an optimized sealing system complete with dual Viton lip seals, QUADRILIP sealing, and material evacuation ports to offer superior protection against unwanted debris.
Key advantages:
-Reduced operation costs
-Direct drive motor options (Integral or C-face)
-Gear efficiency up to 97%
-More direct torque transfer
-QUADRILIP sealing system
-Versatile flange - multiple bolting patterns
Learn more about NORD's Grain industry solutions at https://digital-trade-fair.nord.com/en-us/geaps
Featured Product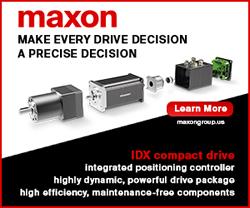 maxon motor launches new high-speed motors that are configurable online. The new ECX brushless motors are quiet and feature very high efficiency. The ECX motors are available with diameters of 8, 16 and 19 mm achieving speeds of up to 120,000 rpm. They run very smoothly and are highly efficient. With maxon motor's online configurator, it is easy to put together a customized DC motor to include gearhead, encoder and controller. The customized motors are ready to ship in 11 days!