Cassia Networks was announced as 1st place in the category of Internet of Things at the International Trade Council's Annual Go Global Awards Ceremony.
On October 14, 2021, the International Trade Council awarded Cassia Networks first place for the Internet of Things Go Global Award.

The legend award is intended to recognize organizations that have made significant contributions towards improvement and sustainability by focusing on strategic thinking, innovation and collaboration. Cassia Networks has been recognized as a global leader in providing Bluetooth IoT products and solutions in over twenty countries and in five continents.
This year's awards were presented by the Go Global Judging Panel consisting of international embassy leaders, government officials and business development professionals.
Receiving the award, Felix Zhao, CEO of Cassia Networks, stated "I would like to thank the International Council and the esteemed judges for this award. We are truly honored to receive it. At Cassia Networks, we believe innovation begins with collaboration with our partners around the globe. We welcome the opportunity for all the attendees present to collaborate and network with Cassia now and in the future."
"Winning an Award is no small feat. We received a total of 6416 entries, coming from organizations in 178 countries. The breadth of award nominations was truly amazing," said Kristal Parcon, head of the Awards Committee.
"We are humbled by organizations such as Cassia Networks who, in the face of a global pandemic, have displayed leadership, resilience and innovation, while embracing change and supporting their employees and communities in a way never seen before."
About the Awards
Originally launched in 1989, The International Trade Council's Go Global Awards celebrate organizations that drive the global economy through their innovations, technologies, and strategies.
The Awards bring together hundreds of senior executives from some of the world's most innovative manufacturers, exporters, technology firms, international service providers, venture capital firms and financial institutions.
While the Go Global Awards offer the opportunity to be recognized and honored by their peers it also goes beyond winning trophies and citations. The program aims to build a community of senior executives from across the globe to support one another, share ideas, create partnerships, and build on their existing knowledge and connections
For more information about the Go Global Awards, please visit www.goglobalawards.org.
For more information about the International Trade Council, please visit www.tradecouncil.org.
To learn more about Cassia's Bluetooth IoT products and solutions, visit www.cassianetworks.com.
Featured Product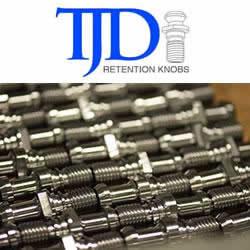 Our retention knobs are manufactured above international standards or to machine builder specifications. Retention knobs are manufactured utilizing AMS-6274/AISI-8620 alloy steel drawn in the United States. Threads are single-pointed on our lathes while manufacturing all other retention knob features to ensure high concentricity. Our process ensures that our threads are balanced (lead in/lead out at 180 degrees.) Each retention knob is carburized (hardened) to 58-62HRC, and case depth is .020-.030. Core hardness 40HRC. Each retention knob is coated utilizing a hot black oxide coating to military specifications. Our retention knobs are 100% covered in black oxide to prevent rust. All retention knob surfaces (not just mating surfaces) have a precision finish of 32 RMA micro or better: ISO grade 6N. Each retention knob is magnetic particle tested and tested at 2.5 times the pulling force of the drawbar. Certifications are maintained for each step in the manufacturing process for traceability.