• First-time participation in Vision Shenzhen, one of China's leading machine vision trade shows • Presentation of the latest product releases and technology highlights • MVTec has maintained an office in China since 2020
Munich, September 28, 2021 - MVTec Software GmbH (www.mvtec.com), a leading international provider of machine vision software, will participate in Vision China Shenzhen this year for the first time with an own booth. From October 28 to 30, 2021, the company will be presenting its latest product releases and innovative machine vision technologies at Booth 9H37. Highlights include the latest features of its standard software versions HALCON 21.05 and 21.11, MERLIC 5, Deep Learning Tool, and state-of-the-art embedded vision solutions. With its presence at the machine vision trade fair in China, MVTec is highlighting the importance of the Chinese market once again. As early as April of last year, the company opened an office near Shanghai in order to be able to better serve this major growth market.

"With our office in Kunshan near Shanghai and our long-standing distributor DAHENG IMAGING, we offer our customers in China optimal support and maximum added value since many years. And with our first-time participation in Vision China Shenzhen, one of the most important trade shows for machine vision, we also give visitors in South China an opportunity to speak directly with MVTec experts," explains Dr. Olaf Munkelt, Managing Director of MVTec Software GmbH.
Live demos aimed at specific market requirements in China
At the MVTec booth, various technologies and areas of application will be presented that are especially relevant for the Chinese market. Based on a number of live demonstrations, visitors will gain transparent, practical insight into the many different machine vision applications from MVTec. One of the exhibits is a new offline embedded board that integrates hardware and typical cameras from different manufacturers. The board will serve to demonstrate both the various potential applications and the high compatibility of MVTec products with different embedded hardware.
A demonstration of how the software identifies various screws on a rotary table will cover the ways in which HALCON can be used to implement deep-learning-based object recognition. On the basis of practical examples and videos, an interactive touchscreen demo will present a variety of topics and technologies relating to machine vision, including anomaly detection, Deep OCR, the Subpixel Bar Code Reader, and an agricultural application relating to 3D plant inspection. Features of the new version MERLIC 5 all-in-one software will also be presented. In addition, a demonstration based on the example of circuit board inspection will show how MERLIC makes it much easier to apply complex deep learning algorithms by utilizing a camera from our Chinese distributor DAHENG IMAGING. The demo runs on an NVIDIA board and showcases the robustness of the MVTec software on embedded devices.
About MVTec Software GmbH
MVTec is a leading manufacturer of standard software for machine vision. MVTec products are used in all demanding areas of imaging: semiconductor industry, surface inspection, automatic optical inspection systems, quality control, metrology, as well as medicine and surveillance. By providing modern technologies such as 3D vision, deep learning, and embedded vision, software by MVTec also enables new automation solutions for the Industrial Internet of Things aka Industry 4.0. With locations in Germany, the USA, and China, as well as an established network of international distributors, MVTec is represented in more than 35 countries worldwide. www.mvtec.com
About MVTec HALCON
MVTec HALCON is the comprehensive standard software for machine vision with an integrated development environment (HDevelop) that is used worldwide. It enables cost savings and improved time to market. HALCON's flexible architecture facilitates rapid development of any kind of machine vision application. MVTec HALCON provides outstanding performance and a comprehensive support of multi-core platforms, special instruction sets like AVX2 and NEON, as well as GPU acceleration. It serves all industries, with a library used in hundreds of thousands of installations in all areas of imaging like blob analysis, morphology, matching, measuring, and identification. The software provides the latest state-of-the-art machine vision technologies, such as comprehensive 3D vision and deep learning algorithms. The software secures your investment by supporting a wide range of operating systems and providing interfaces to hundreds of industrial cameras and frame grabbers, in particular by supporting standards like GenICam, GigE Vision, and USB3 Vision. By default, MVTec HALCON runs on Arm®-based embedded vision platforms. It can also be ported to various target platforms. Thus, the software is ideally suited for the use within embedded and customized systems. www.halcon.com, www.embedded-vision-software.com
About MVTec MERLIC
MVTec MERLIC is an all-in-one software product for quickly building machine vision applications without any need for programming. It is based on MVTec's extensive machine vision expertise and combines reliable, fast performance with ease of use. An image-centered user interface and intuitive interaction concepts like easyTouch provide an efficient workflow, which leads to time and cost savings. MERLIC provides powerful tools to design and build complete machine vision applications with a graphical user interface, integrated PLC communication, and image acquisition based on industry standards. All standard machine vision tools such as calibration, measuring, counting, checking, reading, position determination, as well as 3D vision with height images are included in MVTec MERLIC. Furthermore, the software is able to execute tools in parallel, increasing overall efficiency and improving the implementation of multi-camera-setups. MERLIC's features are all based on the latest state-of-the-art machine vision technologies, such as matching or deep learning. The software is available for Windows-based PC and embedded platforms, making it ideally suited for use in smart cameras. www.merlic.com
Featured Product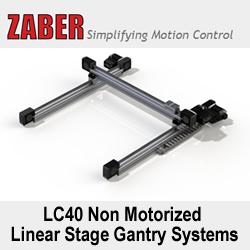 A Zaber gantry kit comes with everything you need to build a customized XY gantry system or XYZ gantry system. These gantry systems feature coordinated multi-axis motion, plug-and-play operation, easy integration with end-effector options, and built-in IO and E-Stop capabilities. An intuitive ASCII interface allows the user to easily communicate with the gantry systems using our free software, either Zaber Motion Library with APIs for several popular languages or Zaber Console. Third party terminal programs that can communicate over a serial port can also be used.